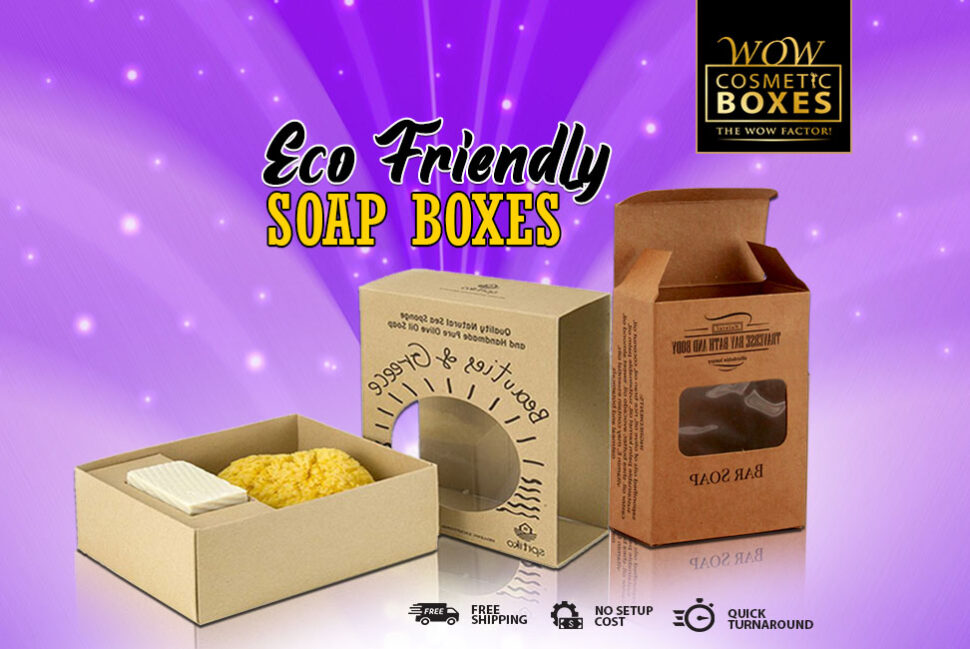 As an e-commerce brand, the packaging is your only chance to make an unforgettable impression on the customers. In this age of customization and personalization, you will get a lot of opportunities to provide an exceptional experience. You can choose branded colorful box to make a bold statement or you can choose a distinctive shape or structure to stand out on the shelves. No matter what you choose, don't forget to be sustainable. In 2021, the concerns about environmental changes are growing among customers, and using an Eco-friendly solution is the only wave to draw their attention. Being green is something which you should consider choosing if you are not already doing it.
What Do You Need to Know About Eco Friendly Soap Boxes?
Customers are pointing out the use of plastic bags in the supermarkets and single-use cutlery in the restaurants, but the fact is there is a lot of non-recyclable material in e-commerce packaging too. Hundreds and thousands of people get their products packed in unlimited packaging layers, which only contribute to the waste. Due to Covid-19, people are preferring to shop online, and we even don't know when the pandemic will be over, and customers will return to retail stores. So, it means in the coming years eCommerce shopping trend will only go high, so as a brand, you have to be responsible and start using Eco Friendly Soap Boxes for packing and shipping.
What Is Eco Friendly Bath Bomb Boxes and Their Importance?
The primary function of custom Eco Friendly Bath Bomb Boxes is to enclose and protect the inside contact. From the manufacturing unit to the supply chain and from the retail stores to the end-users, well-designed packaging provides the needed protection. The other functions are to attract customers, boost sales, build a strong brand identity, and provide product information. A sustainable or Eco-friendly solution performs all the above functions and also has a lower or zero harmful impact on the environment. It is a far better solution than the non-recyclable solutions; not only good for the environment but also for your business.
Here are some of the considerations to take into account to improve sustainability
Choose efficient material: There are many options available when it comes to choosing sustainable material. Soap brands are looking for materials that not only have high-quality appeal but also provide efficiency. Mushroom-based packaging, starch material, and edible solutions are getting popular in the industry. Ask customers to reuse the boxes before the final dump.
Ensure recyclability and reusability: Sustainability is all about using material that is recyclable and reusable. Cardboard, corrugate, and Kraft are highly recyclable, and customers can use these boxes for storage purposes. These are the most used material for eco-friendly bath bomb boxes, you can go for rigid and paperboard, but they are less recyclable.
Design for customer ease: Customer ease and convenience should be your top priority. They don't want to have products packaged in several unnecessary layers. Make it easy for the customer to get the product out of the box with minimum effort. If you choose a durable material for soap containers, there will no need to wrap the box is extra protective materials.
Try to minimize the waste: Minimizing the packaging waste is not only about less material usage but making the whole process more efficient. Try to make the shipping process more efficient to reduce pollution. An efficient process will help to reduce the carbon footprints and make you able to build a good brand image.
Encourage customers on sustainability: If you are a brand that supports green packaging, you should also encourage customers to recycle and reuse the boxes. Ask them to reuse the packaging and share the idea with you on your brand's social media handles. It will encourage them to get the best out of their purchase.
How Can You Get Started with Eco Friendly Lip Balm Boxes?
If you are thinking to get started with sustainable solutions, you need to know the Eco-friendly options and choices available in the market. Let's have a look at some of the most used materials
Compostable and biodegradable materials: Like traditional packaging material, biodegradable materials are compostable, light in weight, and suitable for all kinds of products. They have a special additive that helps the material biodegrade easily. The material is made of corn starch and other plant-based sources.
Recycled cardboard and paper: Looking for something which offers 100% recyclability and results in zero carbon footprints, recycled cardboard and paper are an ideal choice. Manufacturers use cardboard, old newspaper, and some other materials to get recycled cardboard. It will result in zero waste and less cost.
Corrugate bubble wrap: If you are shipping fragile and delicate products, you need to provide the cushioning effect to avoid any damage. Instead of using plastic bubble wrap, go for cardboard wraps. The material is cut in a specific way to act as a cushion and shock absorbent. It is a more sustainable option as you can use the leftover material.
Recyclable air pillows: If you can't optimize the box size and need something for void fill, avoid the Styrofoam peanuts and choose recyclable air pillows. These little pillows are made of biodegradable material, which results in less material. Moreover, they are thinning which means less material usage.
In addition to the above options, you can also reduce waste by optimizing the box size. Try to design boxes according to product dimension, so you don't need to fill the void with extra material.
It is time to let go of the traditional packaging solutions and move towards Eco Friendly Lip Balm Boxes for sustainably packaging your product. If you are new to Eco-friendly custom boxes, it will take some time to know what the best option for your product is. Try to balance sustainability with practicality and aesthetic appeal.