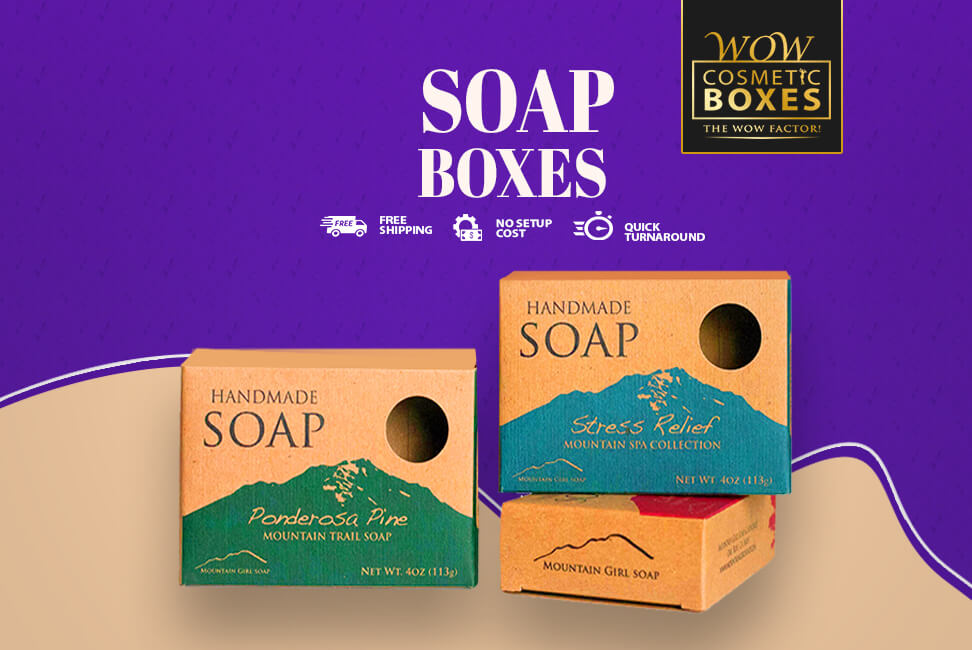 The competition in the soap industry is increasing with each passing day. Every brand is trying its best to improve the experience for its potential customers. However, many businesses fail to make their mark. The sole reason for the failure is poor packaging design. There are many ways to improve the product packaging for boosted sales and maximum brand efficiency. In today's competitive market, being successful is about leaving a strong first impression on the customers. It will ultimately lead to more sales and revenues. A well-designed packaging solution is your business identity and strength your relationship with the customers. Whether it is on the shelves or the online stores, you can appeal to the shoppers and encourage them to repeat purchases. Soap Boxes deserve your time, attention, effort, and money. Here are some tips to improve your product package design:
Stand Out From the Competition with Soap Boxes
A strong brand identity is all you need to make customers choose you over the competition. When thousands of businesses are doing the same thing, how can you stand out? An ideal way is to study your competition and look for inspiration from others in the industry. When you know the approach of others, it will help you understand what extra touch you can add to Soap Boxes to stand out on the shelves. It will also help you get useful insights into your rival's strategies. You can make better choices for the design elements. A unique and creative solution makes customers more loyal to your business. You will be able to connect with customers on an emotional level.
Design Soap Boxes to Tell Your Brand Story
If you want to succeed in the competitive marketplace, you have to avail every opportunity that comes your way to market your business. It is worth consulting a marketing department or agency to deliver your brand message to the customers more efficiently. If you are on a tight budget, you can also take the help of different design templates. Using graphics, phrases, and colors from your brand can help to tell your story more effectively. Customers will instantly know who you are with a branded solution. Soap Boxes with branding make it easier for people to connect and relate with you. You can tell the brand story through text, infographics, images, illustrations, and graphics. Reinforce your brand strategy with a customized solution.
Source Sustainable Materials for Your Cosmetic Boxes
If environmental concerns are not a part of your packaging process, you are missing an opportunity to do something. More than 90% of customers consider the sustainability and green factor while buying their favorite products. Businesses and manufacturers are responsible for incorporating sustainability into their Cosmetic Boxes. One of the ideal ways to be sustainable is to reduce the amount of material, especially plastic. Try to use fully recyclable and reusable material. It can make a significant difference to sales and also impacts the customer perception of your brand. Businesses that are successful in bringing the sustainability factor to the design will see more benefits for sure. It is an ideal way to show customers that you respect their values.
Consider the Unboxing Experience before Designing Cosmetic Boxes
Your packaging solution doesn't need to be visually appealing but also functional. You can't present your high-quality cosmetic items in generic Cosmetic boxes. Design a solution that is functional as well as attractive. You can increase the visual appeal by adding your logo, unique color scheme, custom lettering, illustrations, and graphics. Custom inserts are an ideal and proven way to make the customer experience more special. There are several advantages you can gain from an aesthetically appealing design. You can win the customer's loyalty, encourage customers for repeat business, and enhance the product value. 55% of customers revisit the business after receiving the product in a customized solution.
Focus On the Ergonomics of Lip Balm Boxes
An ideal packaging solution is easy to handle for store workers and customers. Make it easy for the staff to stack the products on the shelves and for customers to unbox the product. That's why it is essential to focus on the ergonomics of Lip Balm Boxes. When you focus more on the visual appeal instead of the functionality, it can result in damaged items, delays, and a bad customer experience. For customers, you should offer a solution with easy opening and reclosing. Noting can ruin the customer experience than having a battle with packaging to set the product out of it. Keep your product package appealing as well as functional. Include instructions for the unboxing and easy handling.
Test and Optimize Your Lip Balm Boxes for Efficiency
An ergonomic solution will not be successful if you test it against different use cases. Make sure your packaging solution is functioning properly. You can take the feedback of a diverse sample of customers and test your Lip Balm Boxes. For example, you can determine how much weight your package can hold, how easy it is to get the product out, and whether customers can unbox the product quickly. The more you test the package regularly, the more it will help design an optimized solution. It will help improve the experience from the very start to the end. Whether your product will sit on the shelves or be delivered to the customers, your packaging solution should withstand all the conditions.