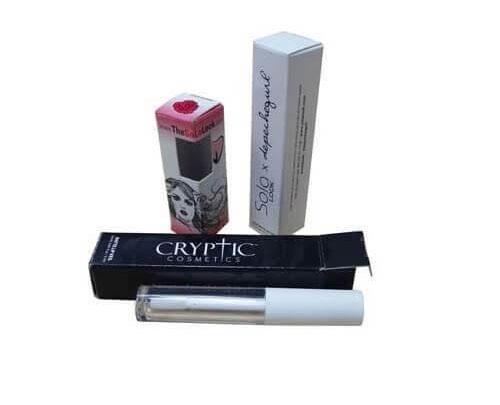 Being in a cosmetic business can be a real stress. You have to maintain a lot of things to maintain the quality of your product.  If you are in the business of lip gloss, you need to work hard on custom lip gloss packaging boxes to beat the competition. There are many choices available to customers regarding lipstick, lip gloss, and lip balm. They usually rely on packaging to buy the product, especially they are not familiar with the brand.
If you are new in the market of lip gloss or owns a small business, you should know that packaging can add up to your cost quickly. Instead of comprising on the quality you should look for ways to cut down your packaging cost. Educing cost doesn't mean you have to eliminate or change something from your packaging design. It simply means that you have to make smart choices and better decisions. Less packaging cost means that you will have more investment to grow your business. Here are some tips from our side to cut the unnecessary packaging cost.
Research different options for lip gloss boxes
When it comes to lip gloss packaging, there are many different options available. You have to choose what suits your product and should be easy on your budget. Go online or take a tour of the cosmetic market to know what is in the trend. Your packaging needs to be less costly than your product but it should meet the high standards of the industry.
Order cosmetic boxes in bulks
The most simple and easy way to save money on custom lip gloss boxes is to buy in bulks. The more you buy an item the more its cost will be reduced. Whether you buy custom boxes, packaging inserts or mailer tapes, placing a large order will help. Maybe you have to pay more initially but it will help you to save cost in the long run.
Opt or minimal packaging
Before the design process, it is important to consider necessary and unnecessary packaging.  Ask yourself a few questions. Whether you need inner packaging or not? Are you printing unnecessary information?? Are you choosing the right printing option? Always opt for minimal packaging design to reduce the cost.
Don't use oversize boxes for your cosmetic products
We have discussed this point many times in other articles as well. Don't use a box which doesn't enclose your product properly. Remember one size doesn't fit all and you should never consider this option for lip gloss packaging. Perfect size also helps to save excess charges and void payment. You can also reduce the shipping cost by choosing light-weight boxes.
Take steps to prevent damage
Return and unsatisfied customers can cost you big times in terms of packaging. Damaged products are the hidden cost which you don't determine at initial stages. If your lip gloss boxes are not durable enough, it means bad shipping which again results in more number of returns. So, don't compromise on the quality of material in trying to save some bucks.
Invest in testing
Your lip gloss boxes have a lot of things to do. They have to travel a hundred miles, they have to face different environmental issues and they have to spend some serious time on the shelves. But after all this, your product should be safe and secure. Otherwise, you have to face low sales. To avoid the issue, it is better to test your packaging before its final launch.
Use green packaging
Green packaging or eco-friendly is not only good for the environment but it is also good for the bottom line of your business. Consider each element of your lip gloss packaging and think whether it is easy to recycle or not. You can use recyclable material for the manufacturing of new boxes which will ultimately help you to save a big amount. Also, it will help to boost up the sales.
Making smart choices can help you to save money on custom lip gloss packaging. Taking the charge in your hand can be a bit difficult but collaborating with the right packaging company can help. Working with WOW cosmetic boxes can help you to make a better decision. We always try to provide the best service to our clients.