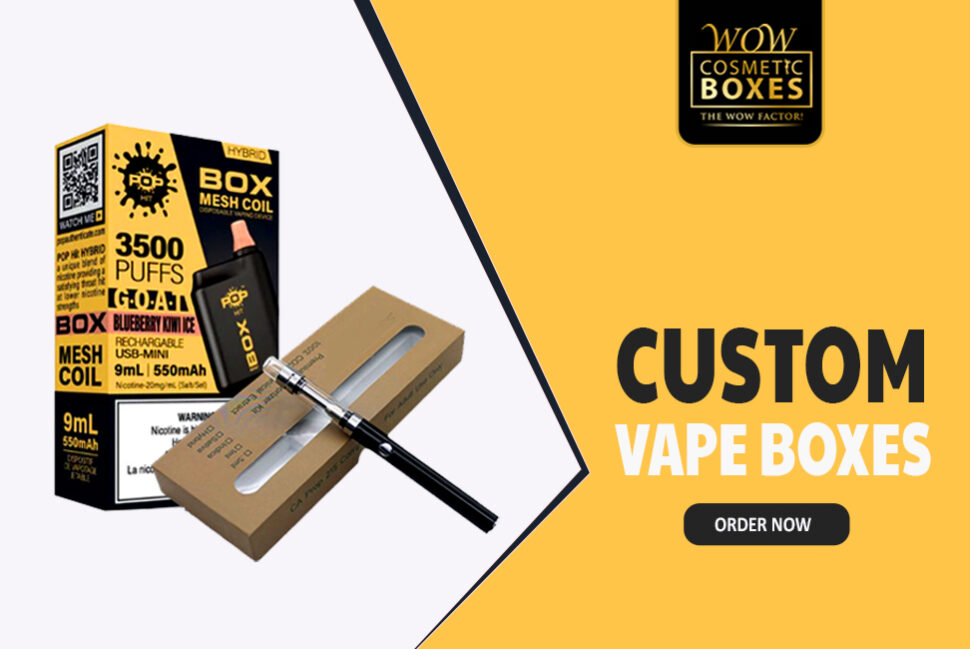 Are you tired of the same old boring vape packaging? Do you want to level up your vaping game and stand out from the crowd? Look no further than custom vape boxes! These personalized packaging options enhance your overall vaping experience and serve as a powerful marketing tool for your brand.
Custom vape boxes allow you to choose the design that fits your style and preferences. The possibilities are endless, from bold colors and intricate patterns to sleek and minimalistic designs. Not only will your customized packaging catch the eye of fellow vapers, but it will also demonstrate your attention to detail and commitment to quality. So why settle for generic packaging when you can elevate your brand with personalized vape boxes? Let's dive into all the benefits and options of custom vape boxes.
Benefits of Using Custom Vape Boxes
Using personalized packaging for your vaping products can provide advantages that extend beyond just branding and marketing. Customization options are one of the primary benefits of using custom vape boxes. With personalized packaging, you have complete control over your vape box's design, size, shape, color, and material. This level of customization allows you to create a unique product that stands out from other competitors in the market.
In addition to customization options, custom vape boxes also help to boost brand recognition. Since your logo or brand name is prominently displayed on the box, it makes it easier for customers to identify your products even from afar. Moreover, with customized packaging, you can add details like slogans or taglines, further reinforcing brand awareness among consumers.
Custom vape boxes also protect your vaping products during storage and transportation. Vape devices and e-liquids are delicate items that need proper care during shipping or delivery. With custom-made packaging designed specifically for these products, you can ensure maximum protection against damage due to bumps or drops during transit.
Personalizing Your Vaping Experience
Personalizing your vaping experience can enhance the flavor and overall enjoyment of every puff. Did you know that according to a recent survey, over 60% of vapers prefer customized vape devices? Customizing accessories such as tanks, batteries, and drip tips can make your device more visually appealing and unique. Additionally, DIY vape flavors allow you to tailor the taste of your e-juice to your liking.
When it comes to customizing accessories, the possibilities are endless. You can choose from various colors and designs for tanks and batteries. Drip tips also come in different shapes and sizes, affecting the airflow and ultimately changing how the vapor feels in your mouth. By experimenting with different combinations of accessories, you can create an aesthetically pleasing and functional device.
DIY vape flavors allow for even more personalization in your vaping experience. Mixing different e-juice flavors or adding extra flavorings such as menthol or cinnamon can create a unique blend that suits your palate perfectly. This adds an extra layer of enjoyment to each puff and saves money compared to buying pre-made e-liquids.
Incorporating customized accessories and DIY vape flavors into your vaping routine allows for personalization that cannot be achieved with off-the-shelf products alone. The result is an enhanced sensory experience that caters to your taste preferences. You can truly elevate your vaping game by choosing the right design for your style!
Choosing the Right Design for Your Style
Are you tired of using the same generic vape devices and accessories as everyone else? It's time to stand out and express your unique style by choosing the right design for your personalized vaping experience. When designing your vape device, there are a few factors to consider. Firstly, take inspiration from different designs that match your taste. You can search online or visit local shops for ideas on what kind of graphic styles or patterns you want.
Another important factor in selecting the perfect design is the color combination. Vape devices come in many colors, so you have an opportunity to mix and match colors for a more personalized look. Consider combining bold and neutral shades that complement each other well, such as black with rose gold or navy blue with silver.
When creating a custom design, choosing a theme that reflects who you are as an individual is important. If you love music or art, incorporate those elements into your design through graphics or patterns. On the other hand, if nature inspires you the most, go for earthy tones like green and brown for a natural look.
Incorporating these personal touches into your vape device will make it stand out and create an emotional connection between yourself and the product. By picking the right design elements and color combinations that reflect your personality, you'll be able to enjoy vaping even more than before! Next, we'll discuss how custom vape boxes can be used as a marketing tool to promote your brand effectively without costly advertising fees – let's dive in!
Oh, you don't want to stand out and make your brand memorable with custom vape boxes – because who needs effective marketing strategies anyways? Creating brand awareness is crucial in today's competitive market, and custom vape boxes can do just that. You can distinguish yourself from the sea of generic-looking competitors by designing unique vape packaging with your logo, slogan, or other branding elements.
Custom vape boxes are not only visually appealing but also serve as a powerful marketing tool. You can attract potential customers and establish a loyal following with cleverly designed packaging that reflects your company's values and messaging. Custom packaging creates an emotional connection between the customer and the product they purchase, making them more likely to remember your brand.
Standing out in the market is essential for success, but how do you achieve this? Custom vape boxes offer endless possibilities for creativity and design. The sky's the limit when choosing colors, patterns, textures, shapes – anything that will help convey your message most effectively. You can experiment with different materials, such as cardboard or plastic to create a unique look that stands out on shelves.
Materials and Construction Options for Custom Vape Boxes
If you want to add some personality to your product and create a lasting impression on your customers, it's time to explore the different materials and construction options available for your custom vape boxes. Sustainable options, such as biodegradable or recyclable materials, are becoming increasingly popular in the packaging industry. Not only do these options reduce environmental impact, but they also appeal to consumers who value eco-friendly products.
In addition to sustainable options, innovative designs can make your custom vape boxes stand out. Embossed logos, unique shapes, and vibrant colors can all catch a customer's eye and leave a memorable impression. When choosing construction options for custom vape boxes, consider durability and product protection during shipping.
Ultimately, selecting the right materials and construction methods for your custom vape boxes can enhance not only the appearance of your product but also its functionality. By choosing sustainable options and incorporating innovative designs into your packaging strategy, you can showcase your brand's commitment to sustainability while creating visually appealing products that attract customers.
Ensuring that every aspect of your packaging aligns with your brand image and values can create a cohesive look that resonates with customers. In our next section about creating a cohesive brand image with custom vape boxes, we'll discuss how design elements such as color schemes and font choices can contribute to building a strong branding identity that will set you apart from competitors in this highly competitive market.
Creating a Cohesive Brand Image with Custom Vape Boxes
You're about to uncover the ultimate secret to creating a jaw-dropping brand image, leaving your competition in the dust, using only your vape packaging. The first step is understanding the importance of brand recognition and how it can be achieved through packaging design. Your custom vape boxes should reflect your brand's identity and values, making them instantly recognizable even from afar.
You need to pay attention to every detail to create a cohesive brand image with your custom vape boxes. Everything should align with your brand voice and vision, from the choice of colors and fonts to the graphics and messaging. This will make your products stand out on store shelves and help customers remember who you are and what you represent.
Another important aspect of creating a cohesive brand image with custom vape boxes is consistency. Your packaging design should remain consistent across all product lines, regardless of size or flavor variations. This way, customers will learn to associate certain visual cues with your brand, making it easier to identify your products in different settings.
By investing time and resources into designing custom vape boxes that accurately represent your brand, you can establish yourself as a trusted player in the industry. This will help increase sales and foster loyalty among customers who appreciate brands that pay attention to every detail of their packaging design. So let's move on to the next section, where we'll explore some exciting trends and inspiration for custom vape box designs!
Custom Vape Box Trends and Inspiration
Let's look at the latest and greatest trends in vape packaging design to elevate your brand image and captivate customers. One of the most popular trends is incorporating unique color schemes that grab attention and set your vape boxes apart from competitors. Bold, bright colors like neon greens, oranges, and pinks are particularly eye-catching and memorable. Not only do they draw attention to your product on store shelves, but they also convey a sense of fun and excitement that resonates with vapers.
Another trend that is gaining momentum is innovative packaging designs that go beyond simple rectangular boxes. Some companies opt for custom shapes, such as triangular or hexagonal boxes, which add visual interest and give off a modern vibe. Others are experimenting with textured materials like embossed patterns or raised lettering to create tactile customer experiences when handling their products. These creative design choices enhance brand recognition and make vapes stand out even more in today's crowded market.
One exciting development in custom vape box design is incorporating augmented reality (AR) technology into packaging. AR-enabled boxes can provide interactive experiences for customers through their smartphones or other devices by scanning QR codes or other markers on the package. This technology allows brands to showcase product information, promotions, or even games right on the packaging itself! AR-powered vape packages leave lasting impressions on users by providing engaging experiences beyond just opening up the box.
Conclusion
Now that you have learned about the benefits of custom vape boxes, it's time to take your vaping game to the next level! With customization options and design choices, you can personalize your vaping experience and create a cohesive brand image. Not only do custom vape boxes offer an opportunity for self-expression, but they also serve as a marketing tool to attract customers.
So why settle for plain and generic packaging when you can showcase your unique style with custom vape boxes? With materials and construction options available, the possibilities are endless. And with trends constantly evolving in the industry, there is always a new inspiration to draw from.
Are you ready to elevate your vaping experience and stand out from the crowd? Custom vape boxes may be just what you need to make a statement. Start exploring your options today!