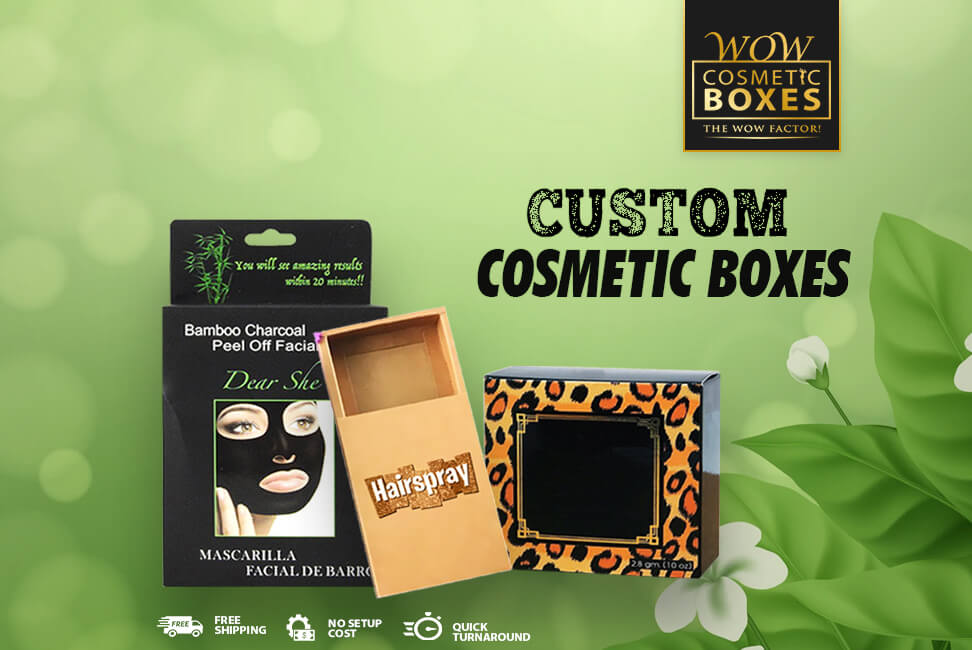 What is cosmetic packaging? Most people think that product packaging is a container that holds the product, but it is more than that. Designing Custom Cosmetic Boxes is an art. It is more than enclosing your product in a box. Humans speak through language, and products communicate through design. When you think about the design and providing a great user experience, you have to work on three things – usability, utility, and desirability. You cannot design a perfect solution unless you think about the customer's convenience. The main difference between good and bad design is knowledge of the target audience. When it comes to cosmetic packaging, it is essential to summarize the user's needs. It will increase the chances of getting a well-designed solution. Here are a few things to keep in mind to designing packaging for an enhanced user experience:
Identify your targeted audience to design Custom Cosmetic Boxes
The targeted audience for your cosmetic business will not be everyone. It is impossible to target everyone or anyone who needs cosmetic items. The first step to providing a great customer experience is to identify your target market. It will be the foundation of your design. Understanding the targeted audience will help reach them with a strong design and message. The more specific your target market, the more it will help design a solution solely for them. If you are focusing on young and teenage customers, your Custom Cosmetic Boxes will have a different design compared to when you design them for the middle-aged audience. You only need to understand the potential customer's mindset and create the best possible solution.
Keep the User Ease and Convenience Mind to Design Custom Cosmetic Boxes
The packaging solution you are designing for your targeted audience must be useful and convenient. It is up to you to find out what customers expect from you. The priority of customers is to have a product package that is easy to open and reclose. The next thing is to avoid using unnecessary packaging material inside the box. It should not take more than a minute to unbox the product. Another thing which customers complain about is the unclear labeling and information. No one abruptly picks up the product from the shelf and buys it. Shoppers usually read the labels and relevant information before purchasing. Design Custom Cosmetic Boxes to provide ease and convenience. It will help you to win their trust.
Offer Reliable and Sustainable Custom Soap Boxes To the Customers
People always expect that the product they are buying will come into their hands safe and protected. Nobody wants to waste their money only to get a damaged item. Give your customers a reliable solution that increases your product life and allows customers to get the most out of it. One thing which is in great demand these days is sustainability. Big businesses are rolling out their non-recyclable solution to design eco-friendly Custom Soap Boxes. We have already mentioned many times that companies that are still overlooking sustainability will suffer sooner or later. You have to focus on choosing the material which provides protection and reduces the carbon footprint on the environment.
Avoid being Excessive and Wasteful while Designing Custom Soap Boxes
The e-commerce industry is going to hit the market of $5 trillion by the end of this year. It is a big number and represents 15% of global retail sales. With ever-increasing competition in the e-commerce industry, it is not simple to ship your product to the customers. Dimension and durability are the two key factors that customers demand. Instead of wrapping your product in several layers of bubble wrap, choose a solution that guarantees protection at all costs. When you design Custom Soap Boxes for your e-commerce business, you need to keep two things in mind: the right size and high-quality material. Choosing the right size container made of durable material will provide an enhanced experience to the customers.
Work On the Aesthetic of Custom Lip Balm Boxes to Drive Sales
Aesthetic design always leads to better sales and increased conversions. The more aesthetic your Custom Lip Balm Boxes will have to offer, the more it increases the chance of your product getting sold. It is proven from various studies that an aesthetic design has more appeal than a standardized packaging solution. Working on the visual appeal increases the chance of your product getting seen in the crowd. It also helps you stand out among your competitors. Whether your customers are buying in-stores or online, they always prefer something which looks unique and offers aesthetics. The right use of the visual element plays a significant role in a customer's decision.
Design and Ergonomic Solution for Your Custom Lip Balm Boxes
When it comes to the product packaging solution, the outside is as essential as the inside. It not only provides protection but also markets your business. You not only need to work on the design of Custom Lip Balm Boxes but consider form and function. Design a solution that allows customers to handle and use the product efficiently. When we talk about the ergonomic product package, there are a few questions to answer. How comfortable is it to hold and stack the box? How easy is it to open the package and get the product out of it? Is the box an appropriate size and shape to fit the product? Keep your target market at the core and approach them with an ergonomic perspective – give them a visual and functional solution.