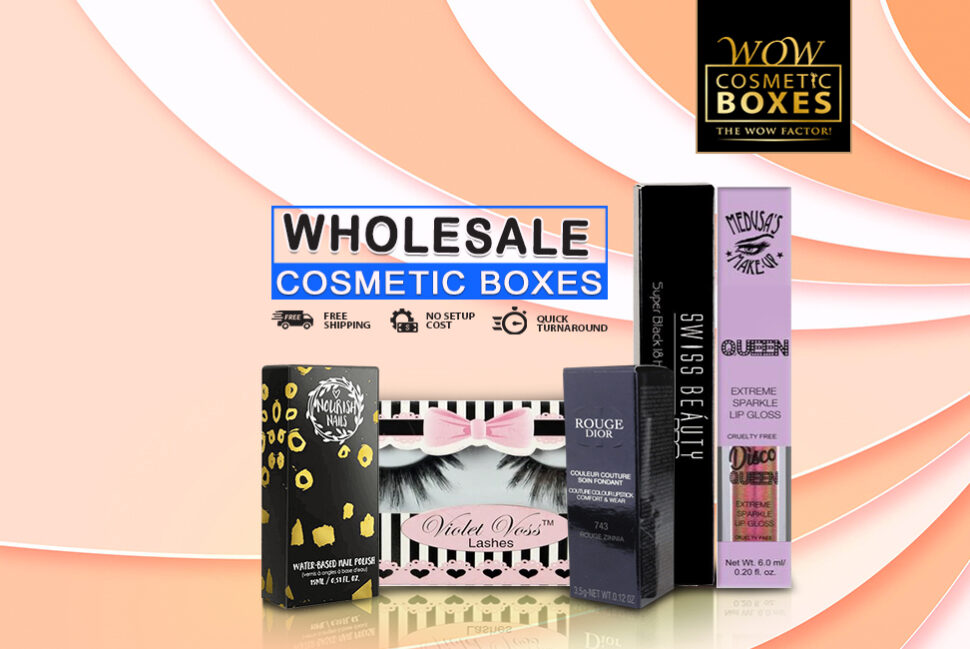 In today's world, businesses are constantly looking for new ways to increase sales and customer engagement. One of the most effective strategies is using wholesale cosmetic boxes. Wholesale cosmetic boxes can help boost sales in a variety of ways, from offering discounts on bulk orders to providing customers with samples and promotional materials. In this article, we will discuss five key benefits of using wholesale cosmetics boxes that can have an immediate impact on your business' bottom line.
The use of wholesale cosmetic boxes has rapidly increased over the past few years due to their cost effectiveness and convenience. By purchasing large quantities at once, businesses are able to save money while still ensuring quality products reach customers quickly. Additionally, retailers can choose custom designs or colors that match their brand image, further personalizing customer experience when they receive packages with these attractive containers inside them.
Wholesale cosmetic boxes also provide numerous advantages for both retailers and consumers alike. For starters, customers appreciate the extra effort taken by companies who package their items attractively rather than simply throwing them into generic cardboard boxes or plastic bags. Furthermore, if done properly packaging can actually extend product shelf life as it helps protect against environmental damage such as heat, moisture and light exposure which may otherwise affect product integrity. Finally, one of the biggest advantages is that well designed packaging stands out from competitors making it easier for customers to identify and purchase desired items without confusion or delay.
Increase Brand Visibility
Cosmetic boxes are a great way to promote your brand and increase visibility. By investing in printed cosmetic boxes with logo, businesses can create an eye-catching display that is sure to draw customers' attention. With custom boxes, companies have the ability to choose from a variety of colors and styles to ensure their branding stands out on store shelves. Furthermore, by using eye-catching displays such as custom cosmetic boxes with logo, products become more memorable for consumers and therefore encourage them to purchase again in the future.
Custom packaging also provides a great opportunity for businesses to build trust among potential shoppers. Customers who come across attractive packaging will be more likely to believe that the product inside is high quality and worth purchasing due to its presentation. Additionally, when customers hold onto branded packaging they may remember it longer than if the product was just placed on its own without any form of branding or advertisement around it. Therefore, wholesale cosmetic boxes provide brands with effective ways to attract shoppers both online and in physical stores.
Wholesale cosmetic boxes give businesses the chance to make sure their products stand out from competitors'. When choosing designs for these packages, companies should consider what type of design would appeal most to their target market while still representing their brand well. Ultimately, this kind of marketing strategy helps establish recognition within consumer markets which leads directly towards increased sales.
Enhance Packaging Appeal
Wholesale cosmetic boxes provide retailers with an effective tool to boost sales. Manufacturers can use customizable packaging solutions that are specifically designed for cosmetics, including custom printing options and personalized labeling. Through the use of customized boxes, manufacturers can create compelling designs that draw attention from potential customers and stand out from other products on store shelves. This appeal will entice consumers to purchase a particular product over others.
The first step in creating attractive wholesale cosmetic boxes is selecting the right box size and shape. The right choice depends on the type of cosmetics being sold; some items may require smaller or larger boxes than others. Additionally, materials used to make these boxes should be chosen based on durability and cost effectiveness while maintaining aesthetic appeal. Another factor to consider is whether the box should feature any special features such as handles or locks which can help enhance convenience when transporting goods.
Customizing wholesale cosmetic boxes also allows manufacturers to add their own unique branding elements. Companies have several options available when it comes to choosing how they want their boxes printed and labeled—from simple text-based logos to intricate images or patterns featuring company colors and fonts—which helps them stand out in the marketplace. Furthermore, using high-quality paper stock for custom print jobs ensures a professional look for each package delivered. All of these factors taken into account result in eye-catching packages that attract consumer attention and encourage purchases.
Offer Convinience To Customers
Indeed, the packaging of cosmetic products plays an important part in marketing and sales. As such, businesses must ensure that the printed cosmetic packaging they use offers convenience to customers. Wholesale cosmetic boxes provide this benefit with their design features and material qualities. For example, high quality custom-printed cosmetic boxes are designed to be sturdy yet lightweight so as to protect the cosmetics inside while also being easy to carry around or store away when not in use. Moreover, wholesale cosmetic boxes come with tamper-proof seals which offer assurance that the cosmetics have not been compromised prior to purchase.
Wholesale cosmetic boxes can also be customized by adding special features such as dividers or compartments for each product type; handles on the sides or top flaps for easier carrying; inserts made from foam or cushioning materials to keep fragile items safe during transit; resealable closures which allow customers to open and close packages easily without damaging them; and transparent panels so customers can view a product's contents before purchasing it. All these extra details make buying cosmetics more convenient for consumers, boosting customer satisfaction levels and increasing overall sales figures.
The use of well-crafted wholesale cosmetic boxes is thus essential for any business selling beauty products. By offering added convenience through specialized designs and thoughtful details, companies can appeal directly to their target audience's needs and preferences whilst ensuring that their products remain safe throughout every step of their journey from shelves into people's homes.
Create A Sense Of Urgency
Custom packaging for wholesale cosmetic boxes is a great way to boost sales. With custom printing, the consumer can easily recognize and remember the product, creating an emotional attachment to it. Additionally, having unique designs creates a sense of urgency that encourages people to buy more products before they run out.
One effective strategy is to print limited edition or seasonal designs on the boxes so customers know these items are only available in certain times. Offering exclusive discounts and offers on specific days also helps create a sense of urgency as shoppers have an incentive to purchase right away if they don't want to miss out. Moreover, using time-sensitive words like "now" or "today" on labels will help increase conversions by making them aware of the need for immediate action.
Another technique used by businesses is bundling different products together into one package with discounted prices compared to buying each item separately. This makes customers feel like they're getting a good deal and encourages them to buy now instead of waiting until later when their budget allows. Furthermore, offering free shipping or other incentives can further encourage buyers as this reduces risk associated with online purchases. Ultimately, creating a sense of urgency through special offers and promotions results in increased total revenue for companies selling wholesale cosmetic boxes.
Maximize Product Protection
Creating a sense of urgency is an effective way to increase sales, but there are other ways as well. One such way is maximizing product protection with wholesale cosmetic boxes. Packaging not only makes the product look more attractive and professional; it also ensures that items arrive in pristine condition. This can be beneficial for both businesses and customers alike.
Wholesale packaging provides many advantages over traditional retail packaging options. It often offers superior convenience, cost savings, and customization capabilities. For example, custom-printed designs on the packaging add a personal touch to the customer experience while providing added durability to protect the contents from damage during shipping or storage. Additionally, bulk buying allows businesses to save money by avoiding excess costs associated with small orders. Furthermore, companies may opt for eco-friendly packaging materials which help reduce their carbon footprint and show commitment towards sustainability initiatives.
The use of wholesale cosmetic boxes helps improve customer satisfaction by ensuring products reach them safely and securely while adding visual appeal to any presentation or display area. Companies should consider investing in high-quality packaging solutions that provide maximum protection against external factors such as moisture, dust, dirt, UV rays and extreme temperatures—all of which could potentially damage valuable merchandise before reaching its destination
Conclusion
Wholesale cosmetic boxes have become an essential tool for many businesses looking to increase sales and visibility. By offering a range of packaging options, brands can create customer loyalty and maximize product protection. With the right branding strategy, these boxes provide increased brand recognition, enhanced product appeal and convenience in one neat package.
The use of wholesale cosmetic boxes also creates a sense of urgency that encourages customers to act quickly when presented with special offers or discounts. Not only do they add value to the purchase experience but they are also able to capture attention from potential buyers who may not have considered buying before.
To sum up, the use of wholesale cosmetic boxes is an effective way for businesses to boost sales through improved visibility, enhanced packaging appeal and creating a sense of urgency among customers. This cost-effective solution gives brands the opportunity to differentiate their products from competitors while providing secure packaging solutions that ensure products arrive safely at their destination.