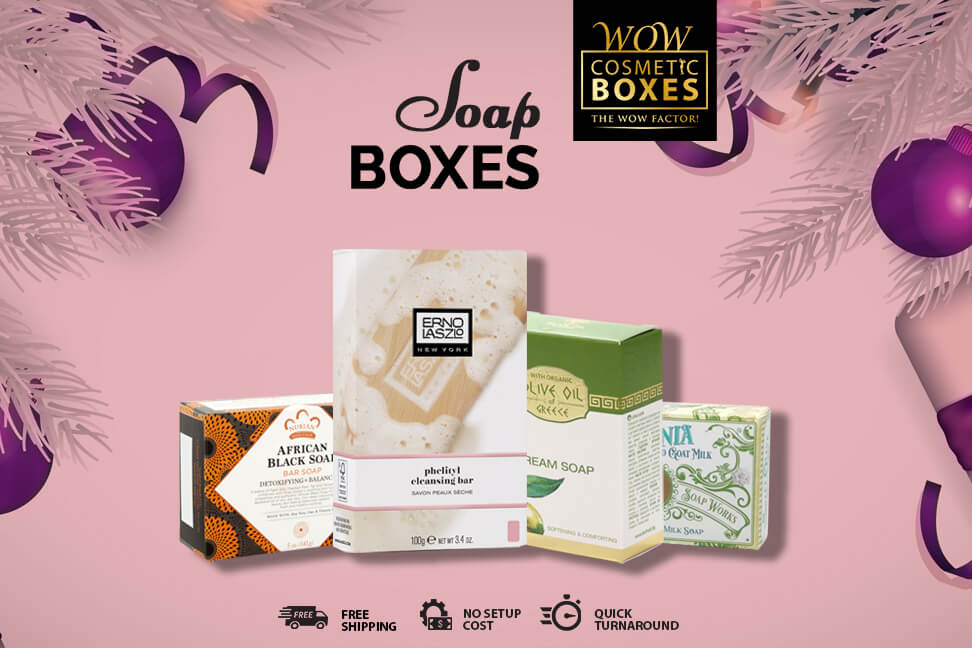 Everything which you see in the store come packaged in boxes. Brands put a lot of effort into the product packaging to draw their targeted audience. Nowadays, you cannot survive in the market without a customized solution. If you are in the soap business but don't know where to take the start, you have to explore why custom Soap Boxes are a good fit for your business. When you opt for a custom box, you can tailor it according to your needs from scratch. In this way, you don't have to settle for a generic solution. From the protection to the printing, you can take full control of the process. It allows you to add a personal touch to the boxes for boosting sales and brand promotion.
In this age, when everyone is going after personalized things, it will not be wise to go after a ready-made or a generic solution. It is the most common type of cartons you will see in the market, and it doesn't provide you the opportunity to stand out. Customers consider the brown packaged products as cheaper options. So, it is better to choose custom soap containers for your business, but still, you have to face a lot of competition. You have to work on the design and other factors to make customers differentiate your product from the competitors. Customers have admitted that they make the purchase decision based on the packaging and ignore the products which come in a dull package.
What are the advantages of customized packaging?
As we have already discussed the difference between generic and stock boxes, it is time to highlight some of the prominent features of a custom box. First of all, it is the most cost-effective solution; you have to invest a little more than a general solution, but it results in higher sales and revenues. With personalized packaging, you can prioritize your product needs at every step of the process. Whether it is the size or the durability, you can have a custom soap box designed according to your product requirements. Another key advantage of the custom boxes is that they are readily available in the market.
When we talk about cost-effectiveness, it doesn't mean that you have to compromise on the product quality. The structural engineering of the boxes provides the highest level of protection to your products. If your products are safe and happy, it ultimately results in happy and satisfied customers. Not only safety, but a branded solution opens many doors for product marketing and promotion. It will make you appeal to new customers and to keep old as well. According to a survey, customers want to have a special connection with their favorite brand, and personalized packing allows you to speak directly to the customers.
When you design the soap packaging according to the needs of your targeted audience, it makes you leave a lasting first impression on the customers, which influences the purchase. By having a unique solution, you can stand out in the crowd that makes your brand easily identifiable. With each passing day, customization is changing the norms of the industry.
Why custom soap packaging essential for your product?
By having a packaging box that encloses your product effortlessly without leaving any extra space in the box, you can provide complete protection to the enclosed content. If you choose a standard size for the soap packaging, there will be a lot of space in the box to make the object move around. Custom boxes allow you to treat your products well, which means that you are treating your customers well. By properly measuring the dimension of the product and structural engineering of the box, it will be easy to protect the product. When looking for a solution, protection should be your priority.
Another great thing about a customized solution is that you have an unlimited choice of materials. From cardboard to corrugate to rigid, you can choose any material based on your product requirements. You can make your soap containers unique with different personalization options. The last thing which you should care about is customer satisfaction, and customized packages make it easy for you to achieve the goal. You can provide them with a solution that is appealing and protective at the same time.
Standing out is another essential factor that makes you choose custom packaging for your business. When we look from the customer's perspective, there is no difference between the soap products of two different brands. The only thing which makes them differentiate one product from the other is the outer box. They will pick the product which appeals to them more. Customers are more likely to go for the product which comes in a unique package. It will not only increase the visual appeal of the product but also speak for your brand.
There are a lot of factors and aspects to consider finding a valuable solution. Invest some time in the packaging of soap and Bath Bomb Boxes to make your brand worth trying.