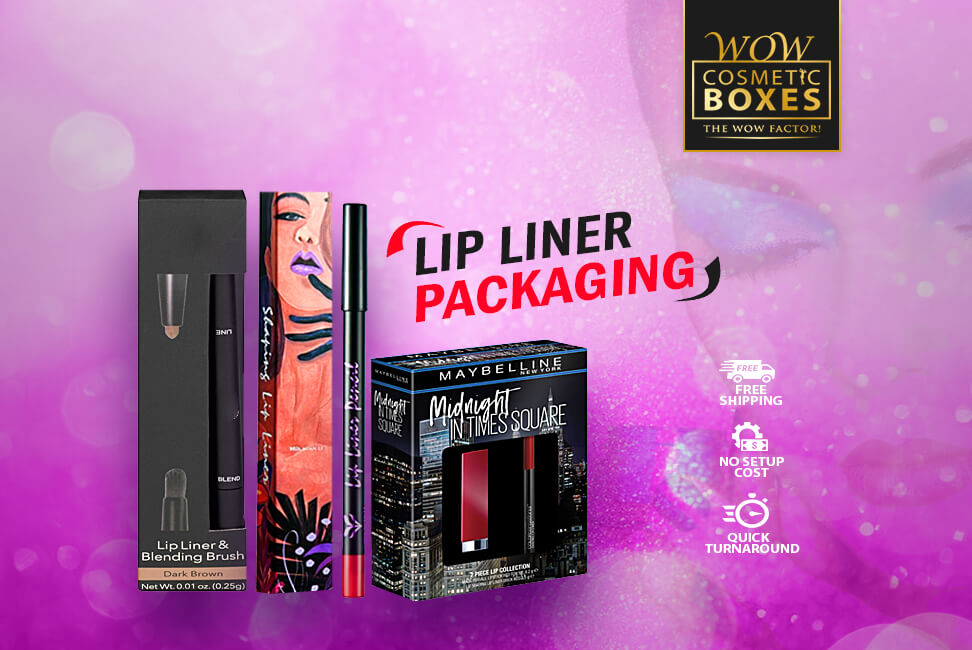 It is essential to provide a luxurious packaging solution for cosmetic items in today's competitive cosmetic market. A wide variety of options are available to enhance the visual appeal of the design. You can get standard and special finishes for your lip liner packaging. We all know how crucial it is to stand out on the shelves. Whether you are competing in the retail market or the e-commerce industry, you have to face a lot of challenges to get noticed. High-quality finished can make your product look outstanding and draw attention instantly. But the truth is it can be a confusing and overwhelming process to choose the right option, especially when you are new in this field. In this guide, we will help you select the right coating based on your packaging requirements.
Have the Best Quality Solution with Laminated Lip Liner Packaging
An ideal coating option for the Lip Liner Packaging boxes is the laminated paperboard. The lamination is highly popular in the cosmetic industry due to its best quality and high-end protection. But one thing to keep in mind is it is a little expensive than other available options. The lamination provides the ideal protection from heat, moisture, and other factors. It is also dust resistant which makes it perfect if you are going to store thousands of containers. If you are seeing some beautiful boxes in a big cosmetic store, the chances are high that they are all laminated. Another advantage of using lamination is it results in high-quality artwork. For a simple yet elegant look, choose lamination as your coating option.
Semi-Gloss Finishing is a More Affordable Option
If you are looking for a more affordable option for the cosmetic boxes, you may want to use the semi-gloss finishing with the AQ coating. It is water-based and a safe alternative to the costly options. Because of its effectiveness and price, most manufacturers consider using AQ as it is the default option for all the coatings. Using AQ coating will give your lip liner packaging a semi-bright or shiny look. But it doesn't offer too much shine to distract the eyes. AQ is an ideal option for new and small cosmetic brands. If you want a glossier or shiny look, it is ideal to go for the UV coating.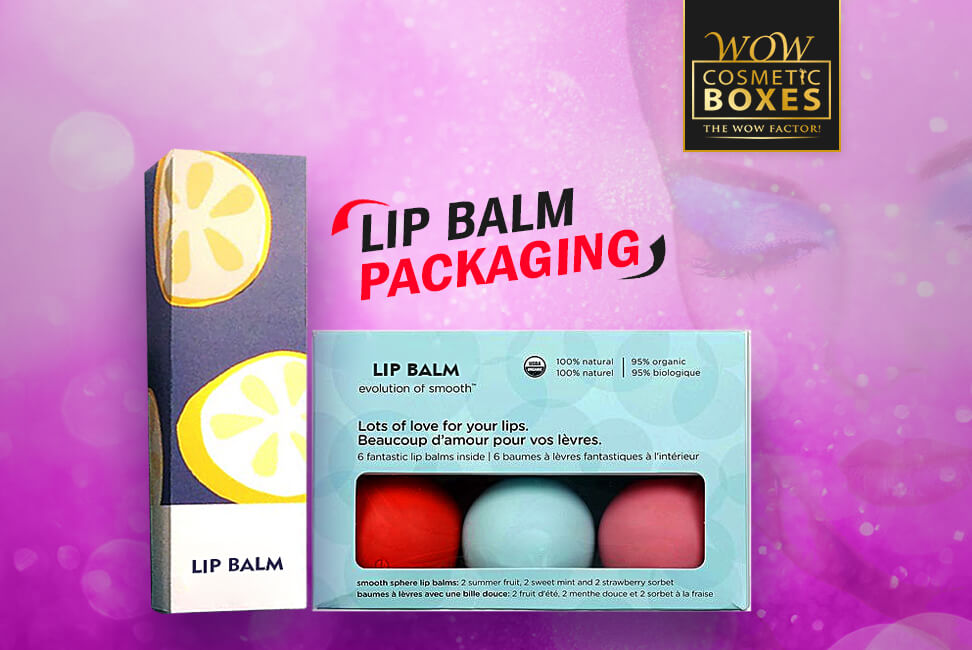 Glitter Coating and Varnishes are Ideal for Lip Balm Packaging
Want a spark and bold look for your Lip Balm Packaging? Go for the glitter coating as your finishing option. The gloss coating contains large particles of glitter that give your boxes their glittery shine. It provides extra protective layers to your delicate cosmetic items. Glitter particles also come in various color options. So it is time to ditch the silver and gold glitter with a more vivid shine. Presenting your product in glittery boxes can help you stand out in the crowd and capture attention without doing much. When you put a light source behind the box, you can see the brilliant glittery effect. Using a dull varnish against the higher gloss can help to create a great contrasting effect.
Add a Tactile Effect to Lip Balm Packaging with a Gloss and Raised UV Coating
One of the most popular coatings used in the cosmetic industry is the gloss UV coating. A high-end gloss with a clear coat can increase the value of lip balm packaging and influence customers for the purchase. One additional benefit of the UV coating is the extra protection. In this process, you apply a liquid-based coating which is dried instantly with a UV drying lamp. Compared to the AQ, UV gives an extremely glossy finish. It ultimately enhances the visual appeal and delivers high-level protection. If you want a more dramatic look for your cosmetic boxes, raised UV coating is an ideal option for you. You can emphasize the artwork with raised UV coating and invite customers to touch the patterns.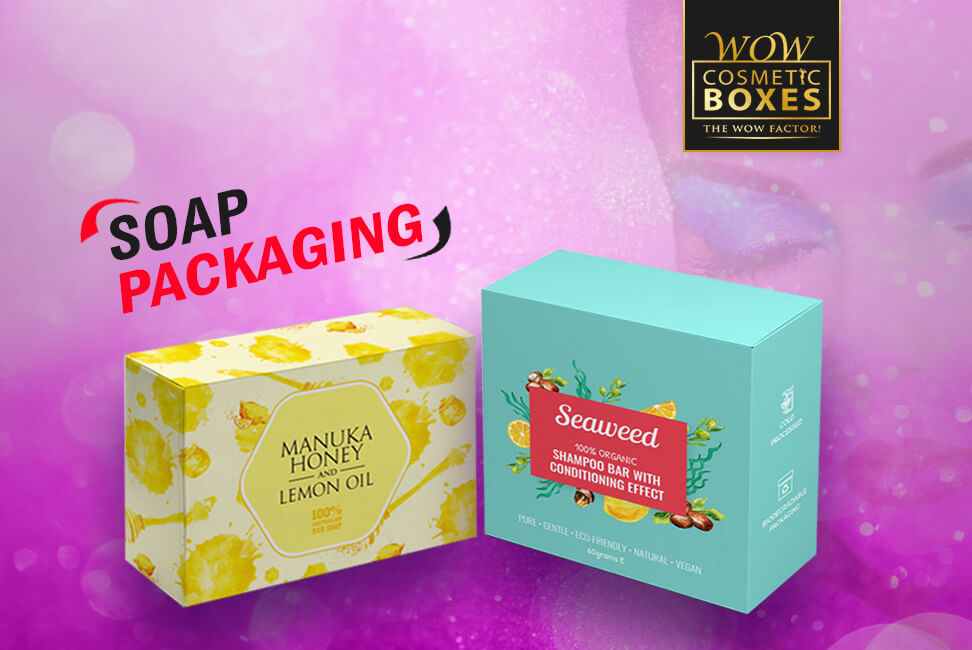 Spot UV Patterns Work Best for Custom Soap Packaging
If you want to draw the customer's attention to a specific part of the print, spot UV can help you out. Placing spot UV patterns over the product name will only make that area glossy or shimmery. It creates a great contrast to catch the eye. The coating applied to the specific area makes this option a luxurious choice for the custom Soap Packaging. You can choose a specific element of the design to give it a contrasting effect. It will make a long-lasting impact on the customers. What makes the spot UV special is that it provides you with an exceptional way to introduce your brand to potential customers. The high clarity and eye-catching coting are all you need to stand out.
Make your Custom Soap Packaging Shimmer with a Pearle-scent Coating
Are you looking for a shimmery and luxurious look for the custom soap packaging? Pearle-scent is an ideal coating for your cosmetic boxes. You can either choose AQ or UV-based coating with this option. You can add a specific amount of the pearls with the gloss coating for a subtle effect. For a more dramatic look, you can increase the number of pearls used. The same process goes for the AQ coating. The glitter coating makes the packaging more decorative, and that's why it is highly popular across many industries. You can have this coating in multiple colors and variations. It all depends on whether you want a less shimmery look or an overkill glittery look.