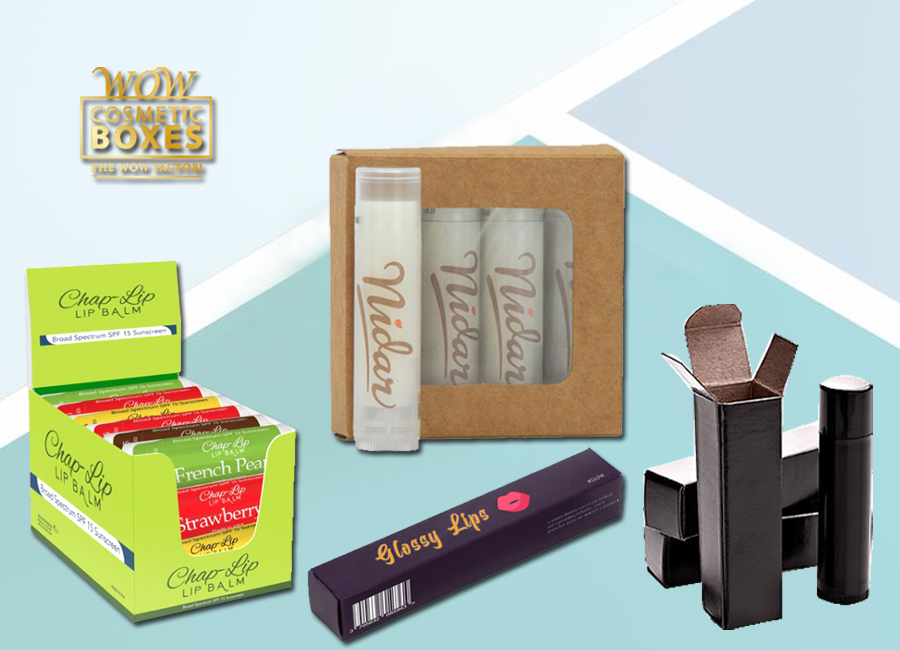 Consider the packaging design of the last item you bought?? How you remember the box depends on how effective its packaging design is. The custom boxes allow you to present your product in a unique way to your future customer base. When it comes to the packaging of cosmetic lip products; custom lip balm boxes should be simple, easy to understand and should stand out in the crowd. Being simple doesn't mean that to compromise on the elegance and visual appeal. Following the minimal design will have more impact on customers.
Custom lip balm packaging is a very creative medium to convey a different type of message to the targeted audience. Whether you want to enhance the importance of recyclable material or want to market your brand, the cosmetic packaging boxes are vast and dynamic. Apart from providing protection, your product boxes can play many roles; it depends on you how creatively you have worked on the design. The most important role the packaging plays is to build a unique identity and brand marketing.
Most of the brands compromise on the packaging and only invest in the quality of the product. It is the biggest mistake you should avoid. Well-Designed packaging is necessary to complement your high-quality product. To turn a small box into your marketing channel, you first need to understand what is the packaging design in actual.
Importance of packaging design
Designing your packaging simply means to have a box which provides protection, identification and fulfills your marketing goal. When you visit a cosmetic store, there are a lot of products on the shelves. Each one has its packaging; whether it is good or bad. You will never get a product without a proper box except if you buy something from the roadside. Quality brands place their product in the retail market and it is where the packaging has its value.
Designing a lip balm box is not as simple as it may seem. If you have the expertise you can rely on DIY but going to a packaging expert is a much better option. The box design is more than printing a logo, especially when you want to use it for marketing purposes. Understanding customer's needs and wants related to custom lip gloss boxes wholesale can help you to design in a better way. Before starting the process, consider these things first to get a better idea of from where to take start.
Graphics and printing design of the boxes
Physical packaging of your product
Packaging design for marketing purposes
Each step will have its requirements and you have to work separately on each of them.
Graphic and printing design
The graphic and printing design of the packaging means how your brand is reflected through your product boxes. When we talk about the design on the outside of the boxes, it should have the ability to draw customer's attention and to influence their purchase decision. Graphics should be according to the brand or you can use them to convey your message to the customers. You have the best opportunity in hand to show off what you are capable of. In the graphic and print, consider the following things.
Different available options for printing purpose
The best material for your boxes
How durable and sturdy your box will be
Different finishing option for s luxurious feel
Physical product packaging
After finalizing your graphic design, it is time to consider the material and style for your lip balm packaging. When it comes to packaging material, you have unlimited options to choose from. We have already discussed the material choices in so many blogs so, let's jump to the size and style guide.
You can choose from a very unique and odd style for your boxes but don't sake the product security over it. You only have one chance to impress customers and you cannot let it go. No matter how hard you try to be unique but remember the main purpose of the packaging boxes; to protect your product. Choose the size according to the product size. Lip balm is a small product and obviously, you cannot choose a cereal box for it.
Take your time to consider all the options related to the shape, material, and style of the boxes. Consider how different elements will work together to produce a perfect result for your cosmetic packaging solution.
Packaging design for marketing purposes
The final step is how to use the packaging design to market and promote your product without saying a word. It is an important element which most of the brands often overlook. Packaging boxes can be the best communication between you and your customers. The images, typography, and information will make your box the best marketing channel. If all things would fall into place, you will get better exposure and visibility as compared to other promotional channels. Your cosmetic packaging should do the following.
It should appeal to your ideal customers
Promote your selling point while residing on the shelves
Communicate the message you want to deliver
Use your packaging to ensure customers that they have made the right choice and there will be no regrets.
Many cosmetic brands have improved their packaging over time and you can also do it for your lip gloss boxes. All you have to do is to think creatively and work efficiently.