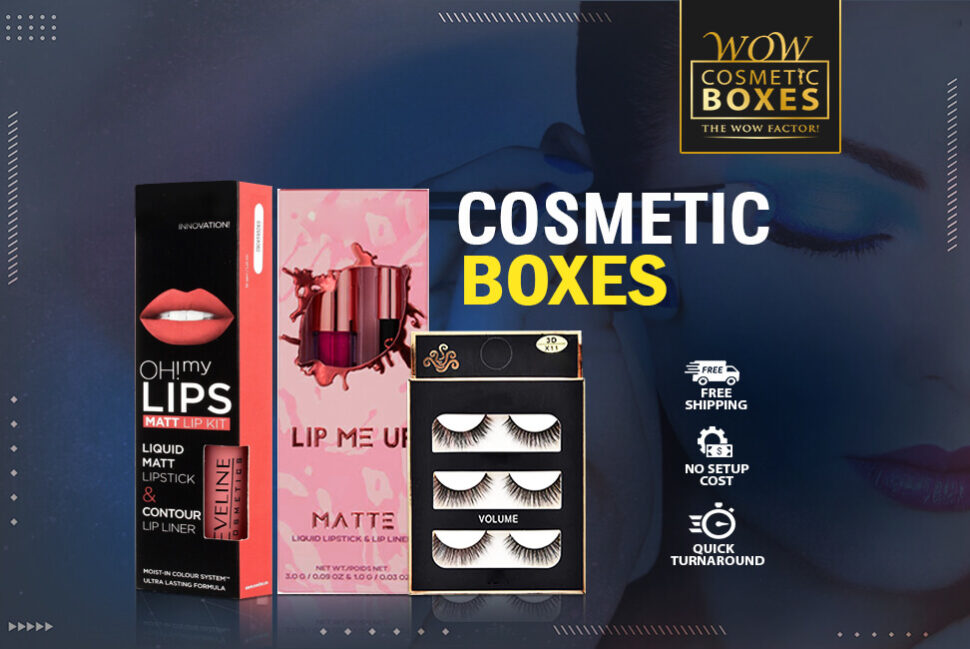 Cosmetic Products are sensitive and in dire need of protection. Not only their security is essential, but also you should represent them beautifully. By displaying such products elegantly, you can have the attention of your target group. It is possible with the help of Cosmetic Boxes. The material, the outlook, and the durability are all that make them complete and adorable!
Rise Above the Competition with Cosmetic Boxes
Companies are introducing numerous cosmetic goods for everyday usage. They involve creams, serums, oils, shampoos, moisturizers, etc. the list goes on. We can't even name them all in a single article. As the variety expands, so does the competition. Every once in a while, new brands launch cosmetic products in order to fulfill customer demand. Not only skincare products but also make-up products come under this category.
All these goods need exceptional display so that customers appeal to them. You can make their packaging look perfect so that they can't resist your products. You can add themes of your choice and design them accordingly. Choose a pattern and stick to it. Only then you will be able to make your unique brand identity. Otherwise, it will be impossible for your customers to recognize your brand and products.
Safety Comes First for Cosmetic Goods
As these products are delicate and sensitive, you need to protect them at all costs. Therefore, ensure the usage of high-quality materials like cardboard or Kraft. This way, you are showing your customers that your work is durable and reliable as well. These materials are well-made to hold the items firm and in place. These will prevent them from moisture, heat, or any other kind of environmental damage.
Furthermore, they are ideal during transport. They don't harm the products during stacking. Such a type of packaging maintains the image of your brand. It makes them look sober without any effort. But if you want to make it interesting, you can print it. There is no limit to what you can do to these materials!
Grab the Classy Lip Balm Boxes for Your Lip Balms
Skincare is the basic right of every human being. Today, everyone is conscious of their appearance and skin needs. Due to changing weather, lips are becoming dry and rough. For this, cosmetic companies have launched lip oils, chap-sticks, lip glosses, and lip balms, etc. They make the dry lips better and give them a shiny and soft look. These are essential for everybody these days. As they are suitable for every age group, you must choose the lip balm packaging for them accordingly. You can put variety in their outlooks by giving them a matte or shiny look.
There are a great many types of lip balms, so the Lip Balm Boxes must be according to them. The outlook, the fragrance, designs, and shapes, etc. define the nature of lip balms. For example, there are flavors like cherry, strawberry, apple, etc. Moreover, the color also varies i.e. they can be colorful but mostly can be transparent containing flowers or any other tiny decorations inside. That is why you should consider their packaging accordingly.
Showcase Your Lip Balms Gracefully to Capture the Attention
No matter how beautifully you design your lips balms, if you are not showcasing them properly, people won't buy them. That's why it is pivotal that you pay extra attention to the box details. Make the packaging so good that your customers become inspired by it. Add colors, designs, readable fonts, logos, etc. to make it quirky.
Furthermore, pay attention to what kind of audience you are targeting. If they are for young and energetic people, make the box vibrant and appealing. If they are for older ones, give them a sober and steady outlook. Choose the appearance accordingly to represent them. Only then you will be able to make a name for yourself.
Soap Boxes That Help Your Soap Brand Rock
The soap industry is evolving every day as the competition is rising. There are unlimited brands in the world for soaps alone. The reason is being them in demand. For centuries, people have been using soaps for cleaning purposes. Not only soaps, their relevant product such as bath bombs, body washes, and sanitizers, etc. are also in demand. But it is impossible to differentiate between the soap brands these days.
The reason for this is all the brands use the same colors and designs for their representation. However, the only way left to differentiate them is through their name and packaging styles. No matter the techniques you use, if you are not paying attention to the outlook of the box, you won't be able to sell your soaps. Make the box charming and cute. Add colors to it. Print it in a classy way and add stickers. Use fonts that are easy to read and understand. All these things help to get you more customers and more sales. Hence, the perfect solution to all your worries.
Competition among Industries to Stick Out
As the competition is getting tough, companies are trying harder to get their products noticed. The cosmetic goods need a proper presentation to grab the viewers' eyes. Therefore, if you are new to the market, you have to ensure the bizarre outlooks of your goods.
For such a cause, Soap Boxes are your premium option. You can add as much as a spice to make it look pretty. The soap industries make smart choices to make their soaps unique and inventive. Hence, the uniqueness of their display is what makes their soaps one of a kind. That's how they will stand out from the rest of the brands. Above all, if you keep your soaps safe, it adds a point to your brand. Because safety is what customers seek and want their purchased goods to be in good condition.