Custom packaging is the first contact of customers with your product and brand. Imagine going to the cosmetic store to buy your favorite cosmetic product and finding endless options on the shelves. How can you pick one? By reading each product's information or choosing the one which is unique and eye-catching? Most of us will go for the seconds because nobody wants to spend hours and hours to reach each product description. That's why we always say first impression matters in product packaging, and it plays a great role in boosting sales. If you don't pay much attention to the design and how it impacts customers, it can lead to unhappy and dissatisfied customers.
Why Is Lip Balm Packaging So Essential To Be Successful?
When it comes to selling cosmetic products, there is tough competition in the market. It is the first touch-point and directly influences the customer purchase decision. There are unlimited reasons why brands need to take custom boxes seriously. When you are into small cosmetic items like lip balms, every detail matters. From the choice of material to the custom design, you need to ensure to catch the customer's attention with Lip Balm Packaging. Take the customer's needs and your product's requirements into consideration to choose the best solution for your cosmetic products. After all, a small box can do wonders for your brand's success.
Let's have a look at the few reasons why customized boxes have become essential for cosmetic brands:
It Makes the First Impression
We all know how custom packaging is essential to cast a memorable impression on the customers. The first impression needs to be impactful and make customers chose you over the other brands. If you will be successful in creating a significant impact, it ultimately results in enhanced brand image and recognition. It helps customers to identify your products from a far distance. Customers see, feel, and touch the packaging before making the final purchase decision, and it needs to be on point. The association of the custom boxes and the first impression is undeniable, which always leads to instant brand recognition.
Personalized Packaging Is the Part of the Experience
When it comes to making your brand stand out in the crowd, a unique customer experience matters a lot. It is one of the primary reasons why more and more customers have started sharing unboxing videos on Instagram and YouTube channels. Giving a satisfying experience to the customers is not easy. You have to tailor it according to your product and customers. Understand your customers to decide whether a minimal and sophisticated design will work or you need to go for a loud and vibrant design. How you place and present your product through the packaging can play a vital role in creating an enjoyable experience. Not only buying but nut unboxing will also make them feel special.
Custom Soap Packaging Stands Out On the Shelves
Today, the competition in the cosmetic market is fierce than ever. Every product is batting to get attention as more and more brands are trying to create a unique experience for their customers. It has nearly become impossible for the new brands to survive in the market. But well-designed Soap Packaging can make you stand out in the crowd of similar products. The customer always goes after a unique solution. If you want to become the first choice of the customers, customer lip balm boxes are the answer. When customers have presented a good range of products, they are most likely to go after the one which has a higher aesthetic appeal.
It Is an Opportunity to Share Brand Values
Product packaging is your opportunity to share your brand values and story with the customers. It enhances the overall look and feel of the product. With a smartly designed solution, you can communicate your brand struggle and the values you hold. If you want to show your green side to the customers, ensure choosing recyclable and reusable material, which conveys your love and care for Mother Nature. How you portray your brand story impacts your brand image, which ultimately results in loyal customers. Using illustration is an ideal way to tell your story visually and making a lasting impact on customers.
A Way to Build a Strong Connection with Customers
As we mentioned before, the first thing customer sees while purchasing the product is the packaging box. It is your opportunity to build a strong connection with the customers. Think about how you can communicate with the customers effectively and manage their perception of your brand. It will help you design a solution that speaks to the customers and establish a strong relationship with them. Connection-based packaging always results in loyal customers, boosted sales, and repeat business. Ensure a design that speaks directly to the ideal customers why they should choose you over the others.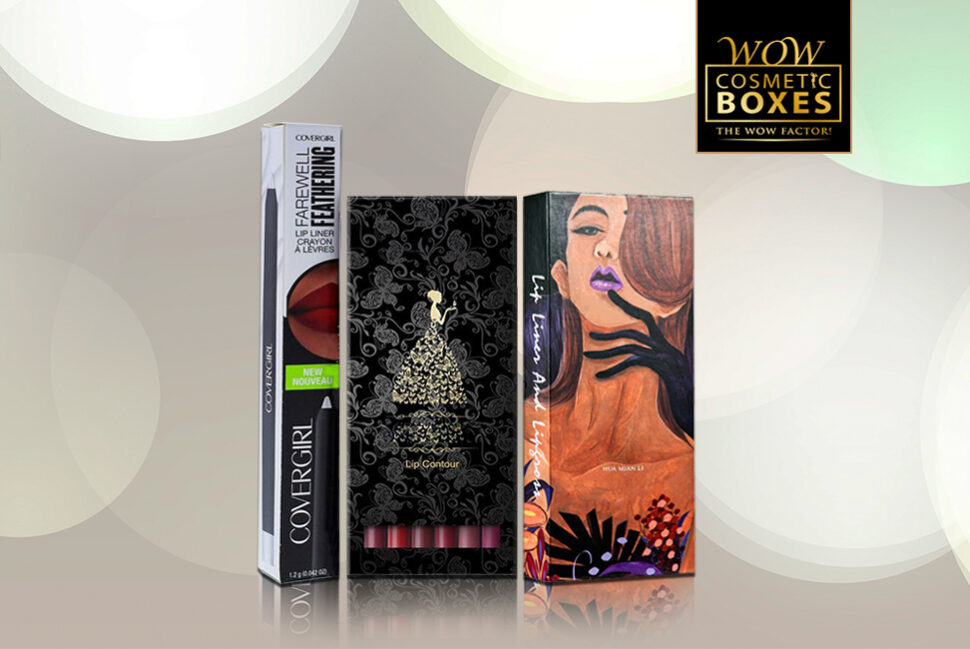 Printed Lip Liner Packaging Influence the Customer Purchase Decision
When it comes to designing custom packaging, there are endless possibilities to design a unique solution. Apart from making a lasting first impression on the customer, a customized solution influence the purchase decision in the following ways:
It evokes emotion and feeling to build a strong connection
Meet the customer's expectations and enhance brand recognition
Colors and other design elements boost the visual appeal to make your brand stand out
When used creatively, graphics and visual design can enhance the look and influence the purchase decision. To create a design that aligns with your brand and product, know your product and brand values.
No matter how much you deny it, humans always judge a book by its cover, and it impacts the first impression greatly. You cannot sell your product packed in a poorly designed solution. Printed Lip Liner Packaging can create a memorable experience for the customers and make them coming back to you for future purchases. It is time to make the right packaging choices and grow your business.