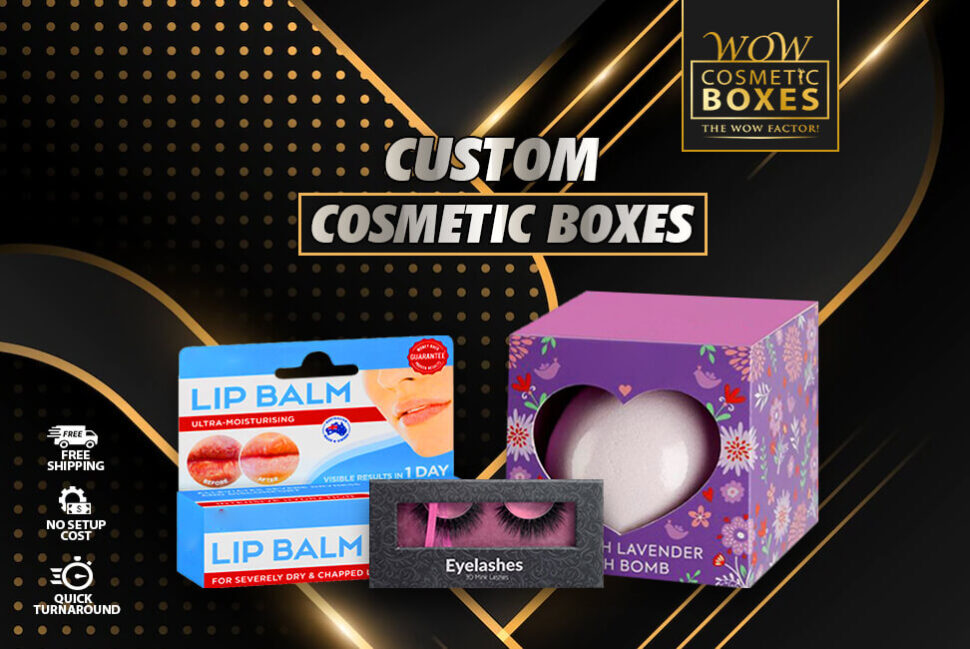 In the cosmetic industry, the competition is more demanding than ever. You need to avail every opportunity to prove why you are better than others. Almost every cosmetic brand tries its best to present its product perfectly in stores and online. The ultimate goal is to make customers purchase the product and generate sales. But after trying their best, some brands still fail to make the right impression. Finishing options are ideal ways to make your Custom Cosmetic Boxes extra special. There are unlimited finishes options, and all the options are fully customizable. You may be aware of these terms before, but this article will help you make the right decision about finishes.
Use Lamination for Durable Custom Cosmetic Boxes
Lamination is the most popular finish used in the Custom Cosmetic Boxes. In this method, a paper coat is applied to the packaging box. Manufacturers usually use the paper layers to cover the entire package, both outside and inside. Lamination is ideal for adding extra durability and strength to your product. It protects the inside content from heat, moisture, and other outside factors. The only drawback of lamination is that it is not recyclable.
Add Extra Stiffness to Custom Cosmetic Boxes with Gloss Foil
Gloss foil is the type of lamination used to add extra toughness to your Custom Cosmetic Boxes. The glossy shine makes the design colors more eye-catching and vivid. It also helps to add saturation to the print. Gloss foil makes your product pop in the crowd. It also keeps the product package from dust. You can apply the gloss lamination on corrugated cardboard, stickers, and rigid containers. Gloss foil has the power to bring your design to life.
Matt Foil Add Sophistication to Custom Cosmetic Boxes
If you want to add extra class and sophistication to the Custom Cosmetic Boxes, matt foil lamination is a great way to do it. It is an ideal option to give your product box a silky and smooth touch. But it is opposite to the gloss foil. Matt foiling is less reflective and adds a classic feel to the design. You can also use the matt lamination with other finishes for a high-end appeal. In addition, it works well with dark color schemes.
UV Gloss Protect the Custom Lipstick Boxes against Scratching
UV gloss is an ideal option for a fun and thrilling feel. Manufacturers usually apply it over the printed design to protect the print from fading. But you can also use the UV varnish creatively for a unique look. Apply UV gloss varnish to give the Custom Lipstick Boxes a shiny look. It makes the design attention-grabbing and protects the design from any scratch. You can combine the UV gloss with a metallic layer for a luxurious look.
Use UV Matt Spot to Add Varnish to Custom Lipstick Boxes
The UV matt finish makes the design colors more vibrant and keeps the surface from fingerprints. Using spot UV on the matt lamination gives a striking effect on the surface. In addition, it makes the colors appear darker, which helps to highlight your message. If you want to make your Custom Lipstick Boxes stand out with good readability, the UV matt spots should be on your list. The ultimate benefit of UV spot is that it is environmentally friendly and ensures a fast turnaround time.
Add A 3D Effect to Custom Lipstick Boxes with Embossing
You can add a 3d effect to Custom Lipstick Boxes with embossing. You can use this technique to highlight specific box parts like logos, taglines, or images. With this technique, you can create a three-dimensional effect by pressing down on the material with a unique tool. It gives a raised appearance and helps the design stand out. In addition, embossing gives an illusion that the logo or information is popping out of the box. As a result, it provides a more refined look to the product and stands out.
Make Custom Soap Boxes Unique With Debossing
If you want your Custom Soap Boxes to have a different look, debossing is an excellent option. This technique gives your box a three-dimensional effect by pressing down on the material with a unique tool. It is also helpful to highlight specific parts of your logo or artwork, like lettering or images. One of the most common uses for debossing is where they use it to create an elegant look by adding depth and texture.
Fluorescent Lacquer Is an Ideal Option for Custom Soap Boxes
Fluorescent lacquer is a top-notch choice for Custom Soap Boxes. Soap packaging with fluorescent lacquer looks very eye-catching and can attract more customers to buy your products. It is a synthetic resin-based varnish that contains fluorescent pigments. The finishing option allows you to create a unique design for your products. In addition, it provides the box with an elegant and attractive finish. If you want to get fluorescent lacquer finishing boxes, you can contact a reputable packaging service to get them.
Hot Stamping Is the Way to Go For Custom Soap Boxes
For Custom Soap Boxes, hot stamping is an excellent option. This process produces a crisp and clear image on the packaging. Hot stamping can be done on any substrate, including paper, plastic, or leather. The results are always impressive and usually leave customers with a positive impression of your products. Hot stamping involves using a heated die to apply foil onto the packaging surface. There are numerous color options available for hot stamping: black, gold, silver, and many others.