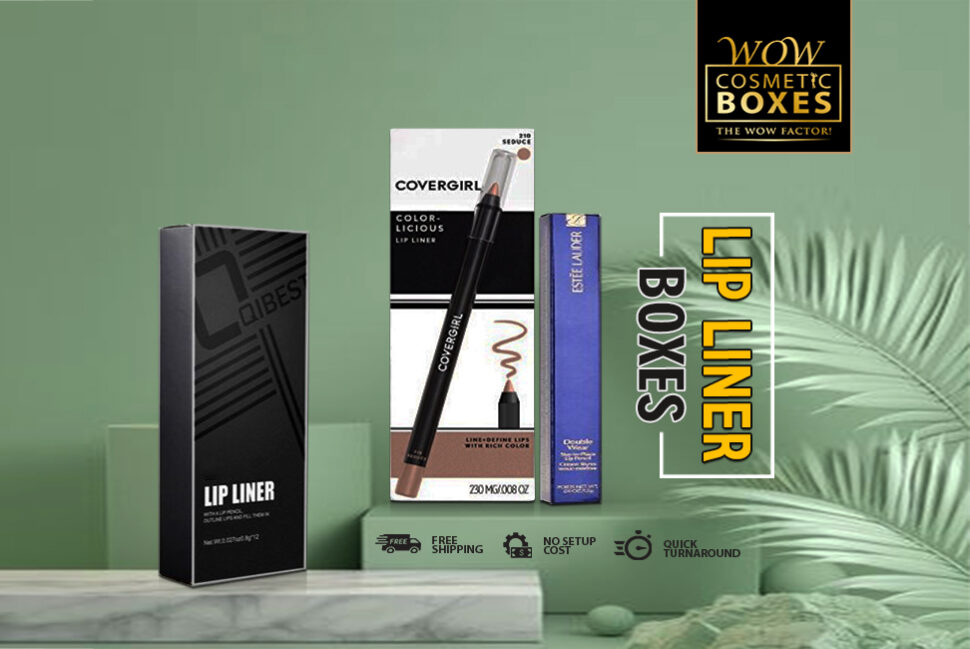 It is time that cosmetic brands should start taking custom packaging as part of the branding. Designing a customized solution for your cosmetic line is not a complex process. You have to put a little effort and time into tailor-made packaging that aligns with your brand. Imagine ordering lipstick from the famous cosmetic line you have never ordered before. The doorbell rings and your package finally arrives. You get the product, and it is the same as you had imagined. The company had made a lasting impression on you even before the unboxing. Investing in your time, effort, and time in the customer experience is always fruitful. Before you start the design process, you must know the importance of custom boxes.
Why Is Custom Lip Liner Boxes Essential To Small Businesses?
The packaging or the box is the first interaction of customers with your business. It can make or break your business. Gone are the days when the only option to package your product is the brown cartons. Small and hand-made cosmetic manufacturers have also started to opt for custom boxes. These containers present and deliver their products to the customers in the best way. Custom Lip Liner Boxes adds value and provides an exceptional experience. Try to meet customer's needs and ensure that everything you design is brand-focused. In this way, you can elevate the experience. A valuable experience creates a strong relationship with your targeted audience.
You need to show your customers that you are putting in full time and effort to deliver a unique experience.
Here are some points to consider to make an impact on them:
The Type of Boxes You Are Using
Before you jump into the designing phase, you need to pick the best box for your product. To decide on the perfect solution, take the following questions into account:
What values or stories do you need to communicate?
What do your ideal customers demand?
What are you packing?
Through which channel are you selling the product?
Once you have found the answers to the above questions, it is time to select the perfect styles. The usual options for cosmetics are mailer boxes, shipping containers, and product cartons. While making the decision, always prefer functionality over beauty. You can be creative with customization, but the main aim is to fit the purpose. If your packaging fails to protect the product, it is of no use.
Choose the Right Size
Selecting the accurate box size is one of the crucial decisions you have to make. It often depends on what you are packing inside and what elements you are adding to the inside. Pick the right size as it will determine how the design will look in reality. It also makes sure that the item remains secure inside the container. Here are two options for you which choosing the box size; custom or common. Order a custom size depending on the requirements and dimensions. You can also pick the best option from already available sizes. We always recommend the custom size.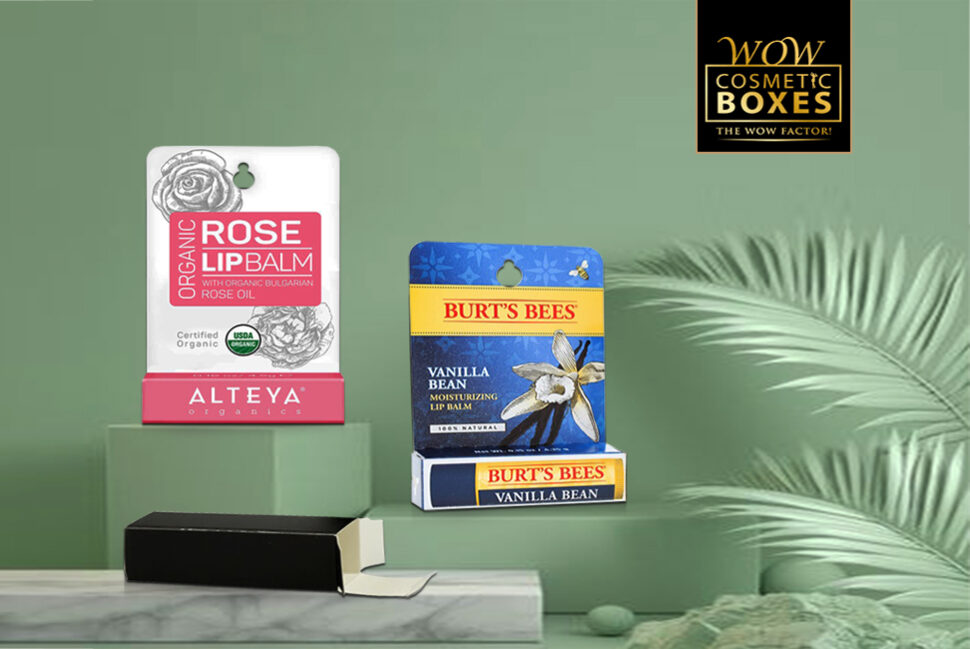 Add the Branding Elements to Lip Balm Boxes
The best thing about custom packaging is that you can maintain consistency. Being consistent makes your customers identify your brand and products instantly. It is a way to provide a memorable and valuable experience. We all know that your custom containers have to be unique to stand out. Being unique is vital, but it still needs to reflect your personality. Elements to use while designing are colors, graphics, logo, typography, and fonts. Branded Lip Balm Boxes are essential to present your mission and value. It will help customers connect with you on a personal level.
Focus On What Makes You Stand Out
Customization offers you the best opportunity to stand out in the crowd. Each company has its unique selling points. Sometimes it can be your story, or sometimes it is the design. To make your products stand out, focus on what makes you different from the others. Every business has firm believes and a story to tell, which you can reflect in the design. Custom lip liner boxes help you to elevate the brand experience. Having an attractive design which reflects your story is a competitive edge. It makes you build a unique place in the crowded marketplace. By focusing on your company's unique traits, you can separate your items from the rest.
Don't Forget The Inside
Custom packaging is not only about customizing the outside of your box. It is also about personalizing the inside for a unique experience. Adding bubble wraps, tissue paper, and custom tapes show your effort for the customers. Take a step further by incorporating small handwritten notes and custom stickers. Promotional items, samples, or a small guide can also be the best options. Apart from it, there are also several other options available. Include your business cards for brand recall, discount vouchers, and QR codes. It is the ultimate way to help customers reach you.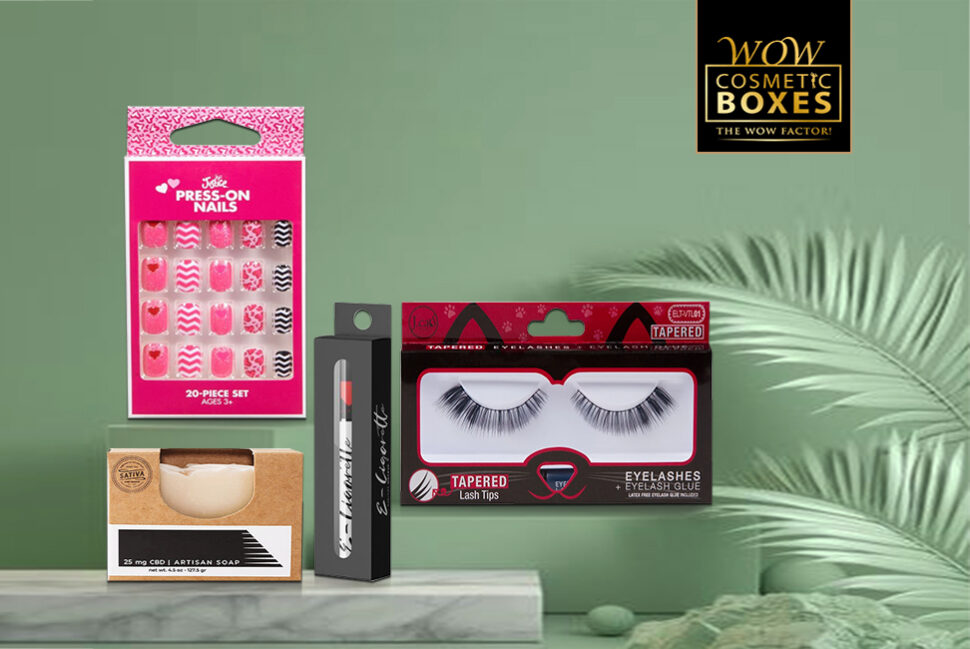 Use Custom Cosmetic Boxes with Logo
Cosmetic manufacturers invest thousands of dollars for a marketing strategy. Custom packaging is your ultimate marketing tool. It helps you reach the audience without breaking your bank. Make the logo part of the design. It helps to build a strong brand image and unique identity. Branded solutions are the need of the hour. Seeing your logo on the boxes can assure customers that you are an authentic company. They are not wasting their money on cheap local cosmetics. Presenting your cosmetics in a branded box will build a positive brand image. It helps in boosted sales and improved bottom line.
Packaging is not only about the external covering. It's the presentation of your brand in the stores and online. Custom Cosmetic Boxes with Logo are the introduction of your company to the targeted audience. It lays the basis for a lasting relationship with the ideal customers. So, it is time to get started and create an on-hand experience that your customers will love.