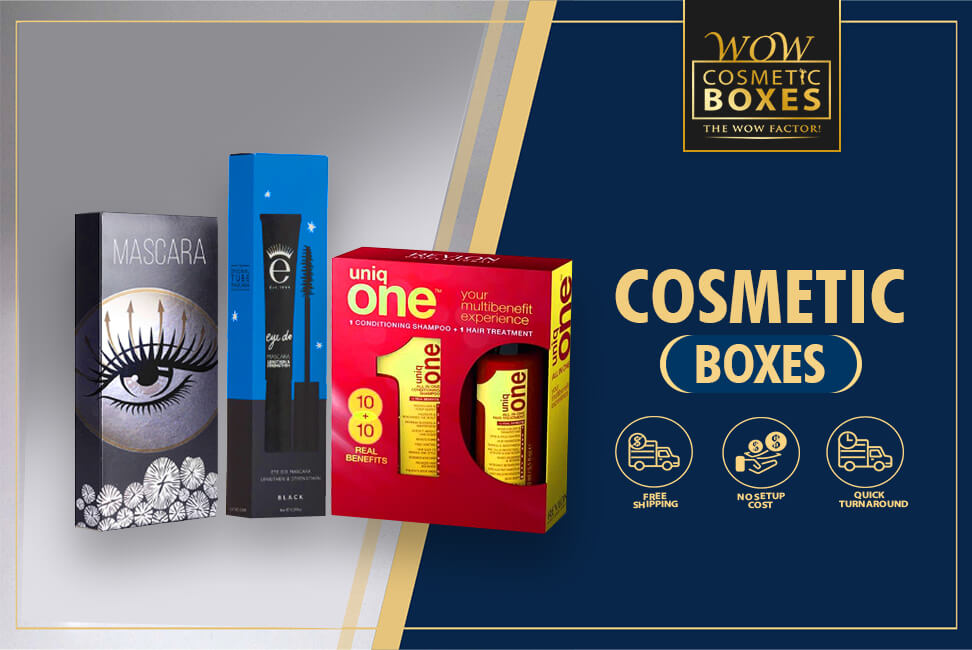 We all grow and change as we age. Why not your product packaging should also be redesigned with time? Whether you have introduced new products in your cosmetic line or only updated the colors, a redesign makes your brand look modern and reminds customers that you are still in the game. But one thing to keep in mind is packaging redesign is not a simple process. It takes a lot of time and investment. You also put your company's reputation at stake, and missing the mark can lead to failure. Redesigning is when you redo or improve the design of Cosmetic Boxes. You can redesign as much as you want or as little. A refresh is when you make minor modifications to the design, like changing the colors or fonts. The term redesign refers to changing everything to have a different solution.
Redesign Cosmetic Boxes to Reflect Product Change
We are not talking about changing the product color or introducing one new item in the line. If you are revamping your whole cosmetic line or introducing a new range of products, redesigning Cosmetic Boxes can prove to be a game-changer for your business. It will make customers look at your business and goods in a new way. In short, reintroduce yourself to the customers with a redesigned packaging solution. It will help you draw positive attention to your product or services. One fine example is when you want to switch to all organic cosmetic items, it requires a whole new design to represent your new offering in the best way. If your current packaging solution is ideal for your product, a redesign is unnecessary.
Redesign Your Cosmetic Boxes to Target New Audience
Targeting a new audience is somewhat similar to changing the product or services. If you expanding your business or targeting the new demographics, it is time to think of a redesign. Shifting your targeted audience is also a suitable reason to redesign the Cosmetic Boxes. Different customers have different preferences. They select the products and brands based on numerous factors. Redesigning for a new audience is about understanding their psychology and what they expect from your business. Many cosmetic businesses redesign their packaging with a more appealing design for a new audience. If you want to target the younger audience for your cosmetic items, adding a little humor and playfulness can help you reach them.
Your Current Soap Boxes Fail To Make a Mark in the Market
One of the primary reasons to redesign your Soap Boxes is you are missing the mark. You had introduced a new product in the market. You were confident enough that it will draw attention and boost sales. But things didn't work as you planned. So what's next? It is time for a redesign. When your original packaging solution didn't perform as well as you wanted, it is best to say goodbye to the flawed design. Every company wants its products to perform better than that of its competitors. The only way to achieve your goals is to design a packaging solution that performs well. If you don't want to go for a complete redesign, a quick refresh can also work.
Soap Boxes Should Meet the Expectation of Eco-Conscious Customers
It is 2022, and if your company is still packing your products in a non-recyclable solution, you are way behind other businesses in the market. More and more customers are switching to brands that are trying their best to reduce the carbon footprints on the environment. If you are making this mistake, it is time to redesign your Soap Boxes. Always choose the material which offers full recyclability and reusability. With a sustainable approach, you can target eco-conscious customers and make them buy your product. Sustainability is the top packaging trend in the market. Your name will vanish from the industry if your business fails to go green in the coming years. Redesign your product package to be more green and sustainable.
You Are Not Standing Out In the Crowd with Lip Balm Boxes
It is a no-brainer whether you should rethink your packaging design if it is the same as the competitors. The ultimate way to draw attention is to stand out on the shelves. You and your competitors have the same end goal: to draw the audience and make. Both of you can't achieve this unless you set your products apart. In a situation where it is hard to tell you and other brands part, redesigned Lip Balm Boxes can give your brand a new identity to stand out. It is essential to do market research to find what your competitors are up to. You can even take inspiration from competitors to design something better.
You Want To Build a Positive Brand Image with Lip Balm Boxes
A brand's reputation on the market usually suffers from several factors. Sometimes poor packaging design, broken shipping items, and poor customer service are to blame. If your cosmetic business has a bad reputation among customers, it is time to redesign your Lip Balm Boxes. It is the best solution for a bad design and not-so-durable product package. The only way to correct your mistakes is to provide a reliable solution to the customers. When you are looking to offer the ultimate protection and better design, you should redesign instead of a refresh. It will help your brand to move forward with a positive image.