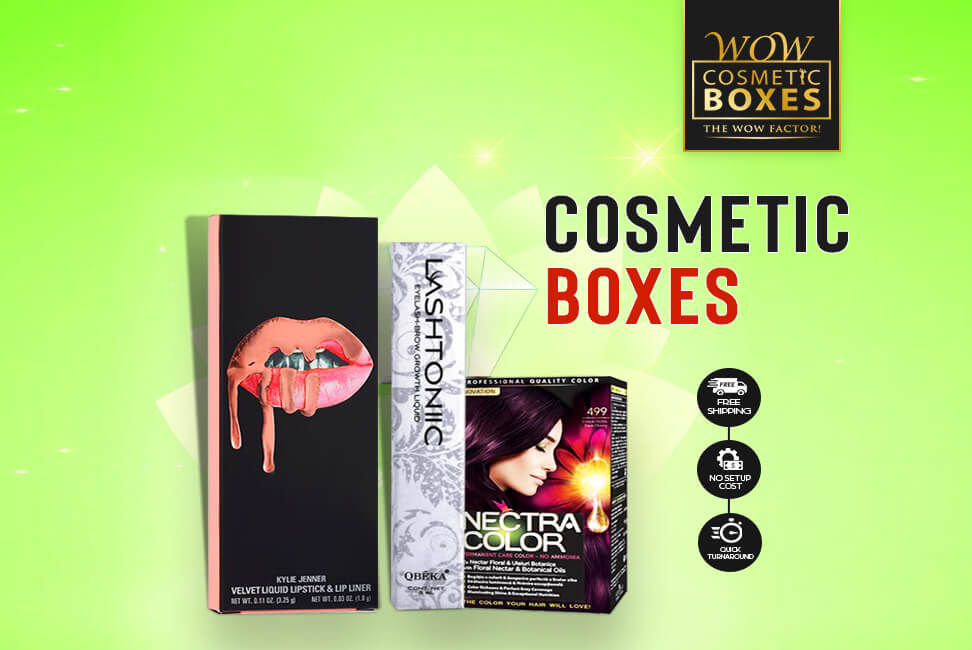 Have you ever bought a new cosmetic product and thought to yourself, this product would sell well if it came in a different box? Many shoppers base their purchasing decisions on product packaging. The beauty products industry has grown so fast. A lot of companies need high-quality Cosmetic Boxes to make their items look better. Moreover, there are a lot of benefits when it comes to having a customized solution. When it comes to the perfect size and style, you must choose the best option. A right-size container offers safety to your products. It is also a cost-effective option. The materials used in the manufacturing of cosmetic containers are high-quality. It makes them more durable and sturdy. You can also have different shapes, styles, and designs for your product packages. Most cosmetic businesses consider custom packaging as a cost-effective solution.
Cosmetic Boxes Offer the Best Protection for Your Products
The end goal of every business is to present its items in a durable, secure, and stylish package. Keeping your cosmetic products safe from external factors has never been easier. Cosmetic boxes provide the ultimate protection for packaged products. These are sturdy and durable boxes that you can rely on. Cardboard is one of the most popular materials for cosmetic packaging. It is also the best choice for protecting your product from outside influences. Cardboard is a sturdy and durable solution. It ensures safety when taking your products on the road or sending them via courier. You can also choose paperboard, rigid paper, and other high-end materials. The choice depends on your budget.
Grab More Attention with Well-Designed Cosmetic Boxes
The ideal way to grab a customer's attention and let them know that your company has a new product out on the shelves is to go for a customized solution. Custom cosmetic packaging is ideal for beauty brands to grab more attention. A personalized solution always results in higher visual appeal. It also ensures product protection and shelf stance. Custom cosmetic packaging is a great way to ensure your success. If you want to grab more attention, attract customers and stand out from your competitors, choose Cosmetic Boxes with your logo printed on them. High-quality printing, premium material, and finishing options give your product packages the appeal you want at an affordable price.
Lip Balm Boxes Help to Elevate the Customer Experience
Do you want to enhance the customer experience? Do you intend to offer your customers the ultimate unboxing experience? Well-designed Lip Balm Boxes are the answer to both of your questions. The purpose of cosmetic containers, like many other packaging solutions, is to protect the products. However, what sets them apart is their ability to elevate the consumer experience and create a positive brand image. Make it easy for the customers to open the package without damaging the box or product. A positive experience will encourage customers to take photos and make videos for sharing on social media. More and more companies are using customized packages in their unboxing videos, which is beneficial for your business. Don't forget about the custom inserts for an enhanced experience.
Have a More Sustainable Solution with Lip Balm Boxes
Customers care about the environment, and that's why having a sustainable solution is the need of the hour. Eco-friendly packaging is a sustainable solution. It also meets the standards of being completely recyclable, reusable, and made from renewable resources. Using eco-friendly material for product packages will help build a positive brand image. Lip Balm Boxes are a biodegradable and eco-friendly packaging solution. Recyclable and reusable materials help to reduce the environmental footprints. An eco-friendly solution is not cost-effective, but its aesthetic appeal also helps to attract more customers. You can get a custom box in Kraft and white. It allows you to customize the perfect look for your brand. Ensure your solution promotes social, environmental, and economic sustainability.
Build a Positive Brand Image with Soap Boxes
With sleek, bold-colored Soap boxes, you can promote a positive brand image. It also gives your product an edge over the competition. Branded soap packaging will not only help build a unique brand identity but also secure a loyal audience for your business. Custom packaging can feature your logo in any color or font with full customization. It will make it easy to create an eye-catching design for a lasting impression. Custom soap packaging is perfect for promotional events or free samples at trade shows and conventions. You will be able to outcompete your competitors with it. Ensure to incorporate your branding elements for a personal touch. Customers will be able to recognize who you are when they walk into your store. It will ultimately result in instant recognition.
Soap Boxes Are the Ultimate Marketing Tool for Your Business
Soap boxes are a cost-effective way to market your business. You can use the custom containers as a marketing tool at trade shows, retail stores, and events. Soap packaging is an ultimate marketing opportunity. It helps to increase the exposure and visibility of your product. It helps with branding and makes customers recognize the products. You should print your brand's logo with social media handles on the product packaging for better promotion. Several retailers are using a customized solution for packaging and shipping. You can also get creative with the design options. Choose the one that best suits the image of your brand and product. How you represent your soaps to the market is crucial for marketing purposes.