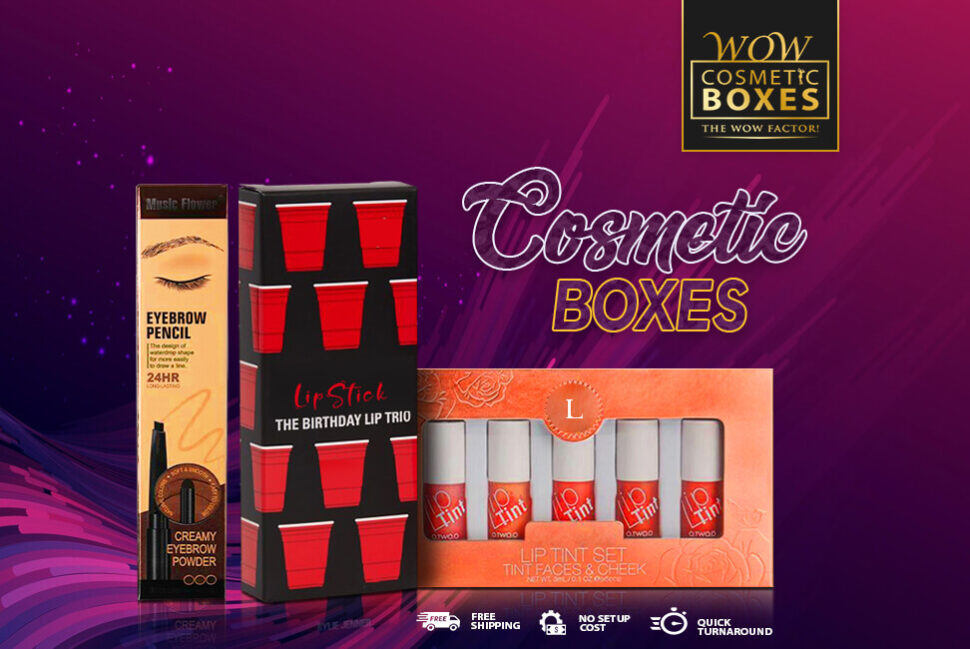 A unique and recognizable brand image can help your business stand out in the crowd. But how do you ensure that happens? Building a unique brand identity is crucial to helping your cosmetic business make a mark. Today, it is easy for customers to get overwhelmed by the sheer number of choices. You have to build something that can grab the customer's attention instantly. One way to do this is to use attention-grabbing Cosmetic Boxes. The packaging defines your product as well as your business. But it is not a piece of cake to design a solution that reflects your brand identity. You have to consider several things to make an impact on your customers. You can personalize the product packages with the logo or other information about your business. It will help you promote the business to potential customers.
Design Cosmetic Boxes to Remain Consistent
There is something about a business that has a consistent look and feel. From the logo to its packaging and beyond, being consistent makes your business trustworthy and dependable. Consistency is key to having a strong brand identity, especially when it comes to packaging. Maintaining consistency in your brand can be difficult when every item you sell is different. If you are selling cosmetics in all shapes, sizes, and colors, consistency can be the real challenge. Use the subtle background for all the Cosmetic Boxes, and keep the design simple. The colors on the box should also reflect the brand identity of your business. It will make it easier for the customers to identify each item in your collection.
Incorporate Your Logo into the Cosmetic Boxes
Cosmetic Boxes are one of the ideal ways to make your name in the cosmetic industry. They not only help to protect the products but also helps to build a unique identity of that product. A logo is a great way to create a unique identity in the crowded market. It can help customers recognize your brand quickly and make your business memorable. Make sure to print your logo on the product packages. It is an excellent way to promote your company. The logo of your company needs to be attractive. The design of the logo must be simple so that people can easily recognize it. The size of the logo should not be too large or small as this will affect its visibility among consumers.
Use Colors In Soap Boxes to Make a Statement
Colors are an integral part of packaging design. Custom Soap Boxes are a great way to integrate your brand and communicate what your product is all about. Custom packaging is an excellent opportunity to use color to make a statement. Is your product fresh and vibrant? Use bright colors and bold typography. If it's more of an earthy, organic product, use muted tones with natural imagery. If it's meant for kids, use fun colors and illustrations. Using attractive colors and graphics makes you stand out. It also helps in promotion and marketing. Nobody knows your product better than you. So ensure using the right color scheme for your product packages to make a statement.
Design Soap Boxes to Be Your Silent Salesman
You may be thinking that the design of your Soap Boxes doesn't matter. After all, it is what's inside the box that counts, right? But a well-designed soap box can be your silent salesman. In the world of consumer products, there is a constant race between businesses to push their items in front of consumers. They spend millions on TV commercials and print ads. But they don't do enough to convince the shoppers in the stores or online. In the race of becoming customers' favorite, you need to stand out from the crowd with custom packaging. A unique, eye-catching, and well-designed solution can turn heads. It can help you convince potential customers to purchase your product.
Tell a Compelling Story with Lip Balm Boxes
You have probably heard this before: a good story is what sells. Every business put its heart and soul into designing the finest quality product. Brands usually have a great story to tell about their journey and experiences. Lip Balm Boxes can help you let your customers know your story. With a customized solution, you put your business right in front of the targeted audience. Connect with your customers on a personal and emotional level to influence them for purchase. Let your customers know who you are, why you love the items you make, and why they should love them too. Storytelling is an ideal way to strengthen your relationship with the customers. It also helps you win their loyalty for a lifetime.
Make Your Lip Balm Boxes Visual Appealing
The first thing customers see when they walk into a store is the displayed items. And the first thing they notice about the product is its packaging. So why not make it an experience? No matter where people find you, they should be able to tell that it is you. It is called visual branding, which is a crucial part of creating a recognizable brand for your business. Design the perfect solution for your Lip Balm Boxes. It will appeal to your target demographic and makes them want to pick up your item. When you are looking to target potential customers, you need to work on every element. From the material choice to the eye-catching design, everything should be on point.