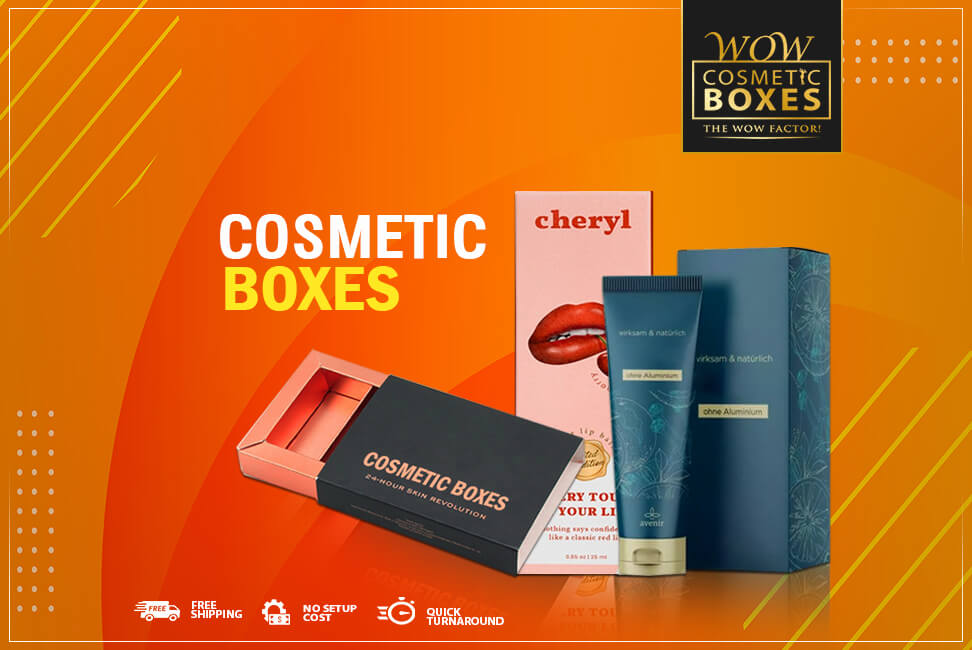 When it comes to perfect makeup, we cannot ignore the importance of using high-quality cosmetic items. A perfect makeup look enhance and define your beauty in an ideal way. Too many choices regarding cosmetics can leave us confused when it comes to making the best decision. But the custom Cosmetic Boxes are always there to help you pick the quality product. High-quality cosmetic products packaged in a customized solution can influence customers' buying decisions. There are hundreds and thousands of makeup items on the shelves. Nobody has enough time to examine each one in detail. Customers only spend 4 to 5 seconds to check a product and this short time is enough for them to make the purchase decision.
Showcase Your Products on Shelves with Custom Cosmetic Boxes
Custom boxes are an elegant way to showcase your cosmetic item on crowded shelves. You can have these containers in various colors, designs, and sizes. Always make the right choice while picking the material for your cosmetic packaging. During shipment and storage, the high-quality material protects the product from any harm or risk. With the latest customizing technique, you can enhance the visual appeal of your product and convince customers that they are spending their money in the right place. It influences customer perception of your business and its goods. Most importantly, custom containers made of cardboard and Kraft are Eco-friendly. It will help build your good image in the customer's eye. A customized solution provides everything you need, from a positive image to increased sales.
A Unique Brand Identity to Stand Out In the Crowd
Cosmetics sector competition is fiercer than in any other industry. To stand out from the crowd, you must have a distinct identity. Branding elements in the design are a great way to enhance your brand identity. Cosmetic containers your logo and distinct style can help people recognize your product. different from other brands. An exceptional solution always attracts new customers and retains your current customers. Logo and brand name on the custom packaging will build your visual identity and communicate your brand message. A branded solution also helps to maintain consistency across all the platforms which is essential to win the loyalty of your targeted audience.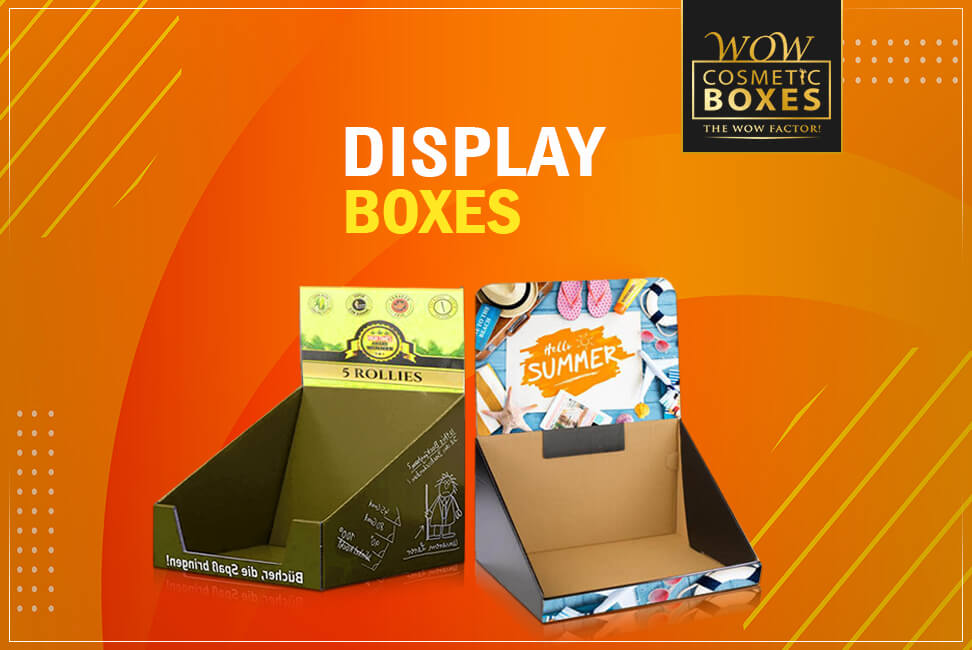 Market and Promote Your Cosmetic Items with Custom Display Boxes
Lots of brands on the retailer's shelf compete to catch the eye of customers. The best way to increase your business visibility is to market it. Packaging with a unique design is a cost-effective and effective way to market and promote your product. The distribution process makes your product visible to many people. You can use these boxes to create a unique brand identity and inform customers why you're different from the competition. You can use the space on the package to provide all the information needed to promote your brand. Besides the brand elements, we also recommend adding your social media handles to the custom Display Boxes. Encourage your customers to provide feedback and share their unboxing experience with you. Using social media, you may reach a larger audience.
A Cost-Effective Tool to Fulfill All Your Needs
Many cosmetic brands usually overlook custom packaging because of the high cost. Do you know that one of the most important reasons for using customized boxes for your cosmetic items is affordability? Kraft, cardboard, or corrugated material is available for the custom containers. The material has a low price and is recyclable. It makes it a preferred choice for manufacturers. Moreover, a custom box with your company logo is the ultimate opportunity to market your business to a large audience. The best way to reduce shipping costs is to use custom-made containers tailored to the product dimensions. Small and lightweight containers are excellent for shipping purposes. Buying in bulks at wholesale rates also helps you to save money.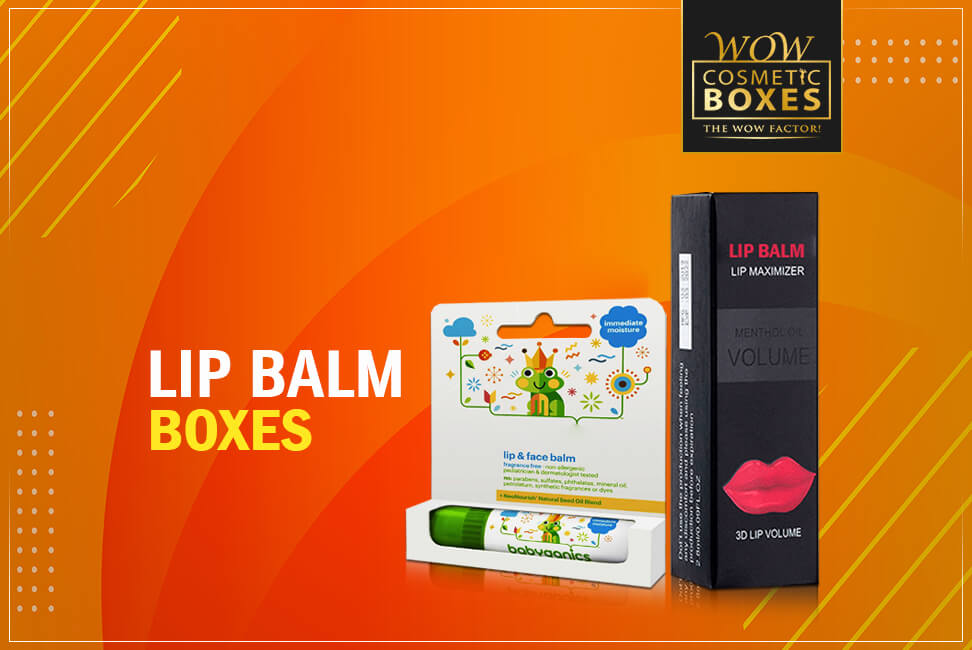 Set Your Brand Apart From the Crowd with Custom Lip Balm Boxes
Custom cosmetic packaging can help you build your unique identity with your company detail imprinted on these boxes. Depending on your goods, you can have these boxes in a variety of shapes and styles. You may come up with unique style boxes for your cosmetic packages by putting in a little extra work and imagination. You must improve your artwork and design in order to stand out. Do your research to know what the competition is doing. It will assist you in determining what should be included and what should be excluded from the design. Don't forget to add the logo to the boxes. A branded solution is the ultimate way to stand out in the crowd with custom Lip Balm Boxes.
An Ideal Way To Boost Sales and Generate Revenues
Packaging is the first touch of a customer, and that is why it should be unique. It triggers customers' emotions and encourages them to buy the product. When you uniquely present your products, it will always help you boost sales and generate high revenues. Choose a distinctive style and shape to convince customers to look at your cosmetic items. Most likely, they will end up buying them. Customers will find it difficult to overlook a distinctive and stylish solution. Cosmetic businesses spend thousands of dollars on sales strategies. Working on product quality and how you package it can generate great results for your company. A study has proved that custom packaging can boost your sales up to 20 to 30%.