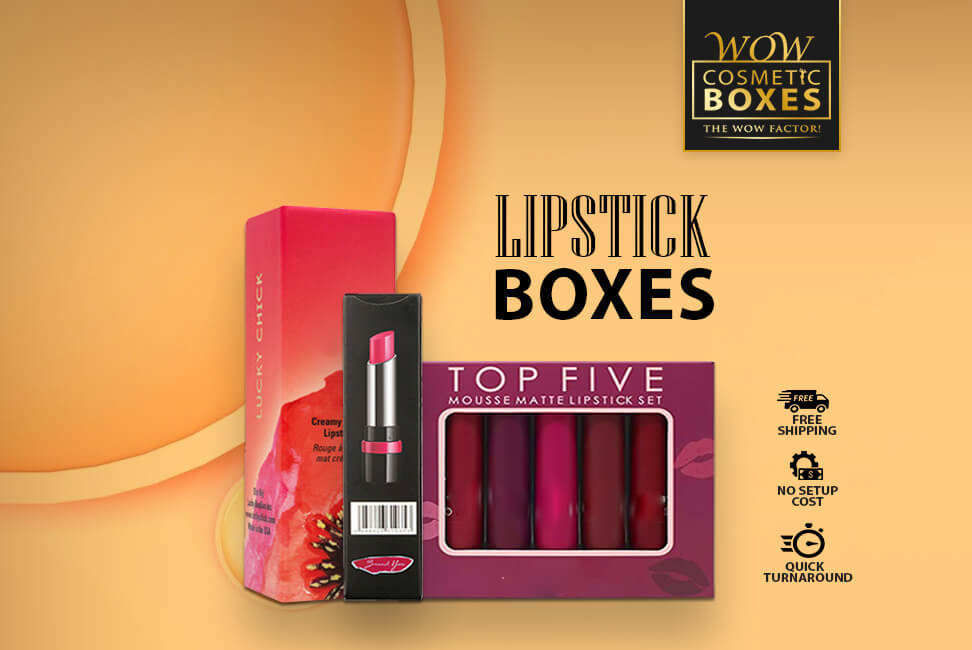 Lipstick is the only cosmetic item that every woman loves to use. Women always carry their favorite lipstick in their bags. It is a product that is highly in demand, which means there is great business potential. If you jump into the lipstick business, you can make your name in the industry with high-quality products. But the only drawback is the high competition. Thousands of makeup brands are already selling lipsticks. To make your product sell, you need to stand out with your product and its packaging. Every brand work on product quality but only a few focus on its packaging and presentation. If designed right, Lipstick Boxes can help you sell the product. Here are a few tips to design your lipstick packages the right way:
Start Designing Lipstick Boxes with Strong Branding
Custom packaging will be more effective if you will have strong branding. It means you should have a strong visual identity. Robust and well-established branding will help customers to recognize your product in the crowd. Before you start to play with the design of Lipstick Boxes, you should have a strong visual asset in form of branding. Every brand owns a special color, font type, pattern, or tagline that becomes its identity.
Consider Your Targeted Market for Lipstick Boxes
You cannot come up with perfectly designed Lipstick Boxes if you don't understand your targeted market. It is essential to know the people who will buy your products in stores or online. You are designing for your customers, and it is essential to emphasize what they will love. Design a unique solution that is fun for the customers. When you design something your ideal customers love, they will buy it without any second thought. Let your design speak instead of you to convince customers.
Always Aim To Stand Out With Lipstick Boxes
When we talk about the lipstick market, thousands of brands are selling this product. You can easily get lost in the crowd if you don't make effort to stand out. If you want to set your product apart, it is essential to know what the competition is doing. Take a deep look at your competitor's approach and find out how you can come up with a different solution for your Lipstick Boxes. You can stand out with bold colors, unique patterns, and distinctive shapes.
Come Up With Cost-Efficient Cosmetic Boxes
Most cosmetic businesses avoid customized packaging due to its high cost. But they don't know they can come up with a cost-efficient solution. There are many ways to reduce the cost while designing Cosmetic Boxes. You can go for pre-made custom boxes, stickers, and labels. There are fewer customization options with pre-made containers, but you can save a good amount. Purchasing in bulk is another ideal option for cost-saving. All you need to do is find a supplier with these options.
Don't Go Over the Board While Designing Cosmetic Boxes
Always follow the minimal approach while designing the Cosmetic Boxes. Businesses usually make the mistake of designing cosmetic packaging with too many elements. Using too many colors, patterns, and text will only distract the customers. One or two colors are enough to make your box visual appeal. Use visual elements instead to text to convey the information. Simple patterns are more effective than complex designs and graphics. Being minimal is the new trend to follow in the cosmetic industry.
Consider Where You Will Sell Before Designing Cosmetic Boxes
It is one of the essential aspects to consider where you will sell your product. Are you a retail brand that sells in the brick and mortar stores? Will you sell your products online? Both have different packaging requirements, and you need to design your Cosmetic Boxes accordingly. If you are shipping directly to the customers, you need to work on the unboxing experience. You need a more visually appealing and fancy design while selling in the stores.
Always Consider Ease of Use in Design Soap Boxes
One thing which most businesses and designers overlook is the ease of use. The first thing customers notice while holding your package in their hands is how convenient it is. The package must be easy to hold and open. It should not take an arm and leg to get a lipstick out of the tiny box. Convenience is not only limited to the customers. You should also think about the retailers. Soap Boxes should be easy to stack on the shelves and take up less space in the storage.
Test Your Soap Boxes before the Final Launch
Testing is an essential part of the packaging design process. If you don't test your Soap Boxes, there is a chance of product damage and a bad customer experience. There are different measures against which you can test your design. Testing will help you determine whether the package can protect your product at different stages or not. Give the Soap Boxes samples to the customers and take their feedback. It will give you an idea of how you can improve the design for a better customer experience.
Don't Overlook the Importance of Soap Boxes
Cosmetic brands consider custom packaging as an afterthought. They take it only as a way to hold and showcase the product. When designed rightly, Soap Boxes are more than just a carrier. Packaging is an opportunity to sell the product, market your product, and win customers' loyalty. The right design has the power to draw customers and make them feel good about your brand. It is time to change your approach toward packaging.