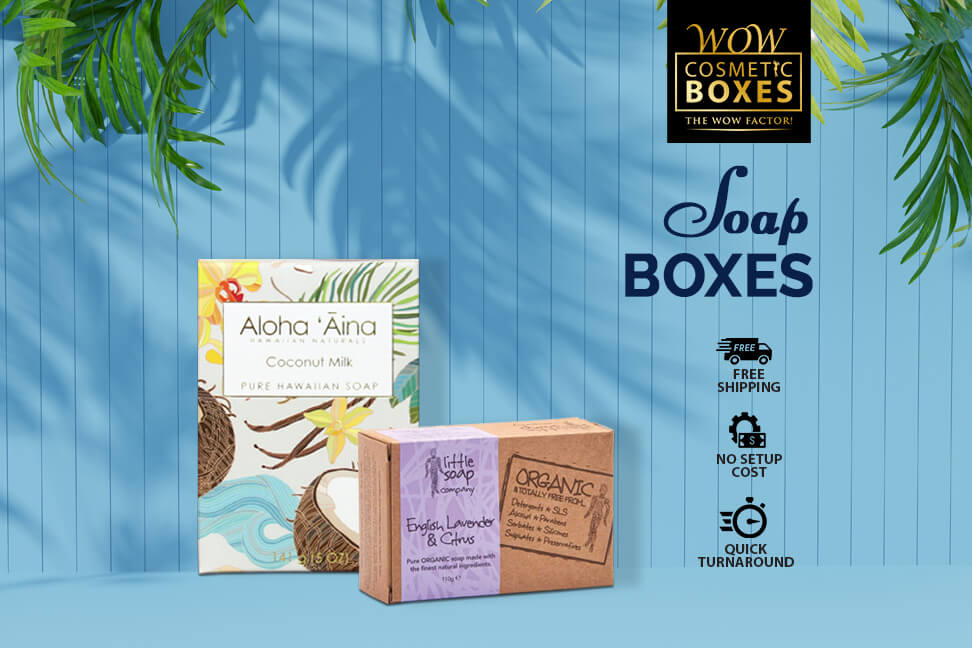 If you are into the soap business, one thing which is continually on your mind is the budget. It is a good step to plan your resources before the time. It is no doubt that a high-quality product costs a high amount but do you consider how much it will cost for a well-designed packaging? You cannot overlook the importance of well-designed custom Soap Boxes in making a brand successful. These are an essential part of the customer purchase experience and also help in improving the business bottom line. You don't need to have a big budget or own a big business to have luxurious packaging.
A custom packaging solution costs less than you think, but it is not possible to give an exact answer. The product comes in all shapes, sizes, colors, and finishes. The cost depends on your product requirements and your needs. There is no single answer to the question, but here are some ways to figure out how much custom soap packaging boxes will cost your company.
What are you selling?
The first and essential step is to know what you are going to package in the boxes. It is all about knowing the product needs and requirements. It will help you decide whether you need a retail box or a display box, or a cosmetic container. The answer to the question will affect how much you will spend on the box choice. Moreover, the brand image you want to portray also makes an impact on the estimated. If you are a luxurious brand, customers will expect the same for the packaging boxes. It is crucial to put some thought and effort into increasing the appeal. The type of protection des your product needs is another factor that can affect the cost. If you are selling different sized products, you cannot rely on one size for the boxes. You have to consider several factors to get the right estimation.
What type of branding do you want?
Branding is also a crucial factor that defines how much you will pay for the custom soap packaging boxes. Banding is all about getting the box design that portrays your values and vision effortlessly. You have to consider the printing or designing cost of the elements you want in the packaging design. Do you want a small logo printed on the front of the box, or do you want the logo to cover the whole surface? Printing costs will vary according to your choices. If you are new in the soap market, you cannot rely on a simple design. You have to put a lot of effort and a little bit of creativity into Cosmetic Boxes to stand out. Branding is not only about the outside but you also need to work on the inside of the box to make your brand memorable.
How much does custom printing cost?
Printing is the most crucial part of getting your design right. Brands use three printing methods for soap packaging containers. Digital, flexographic, and litho printing techniques are popular for custom boxes. When it comes to small orders, the preferred choice of manufacturers is digital. In this method, the print goes directly on the surface, but it is an expensive option. In flexo, the design also goes direct to the box. This method use stamping instead of ink. Flexographic printing works best for large quantity orders. Litho gives you high-quality printing with the highest resolution, but it means that you have to pay extra. The printing doesn't go directly on the box, but it comes in the form of labels.
What type of box do you need?
You must have an idea of the type of custom box your brand needs. It is time to explore some of the available options to choose the one which suits your needs seamlessly. Above, we have discussed some of the usual printing techniques, and definitely, the printing will physically go on the boxes. The three most used custom containers for soap packaging are rigid boxes, folding cartons, and corrugated boxes. Rigid boxes are sturdy, and brands usually use them for high-end and fragile items. They might be costly, but these are an ideal choice to increase the visual appeal and give your product a luxurious look. Folding cartons are fold-able, and these are not much durable. These boxes come flat and save the shipping cost. Corrugated boxes are typical moving containers and quite affordable as compared to other options.
What is your time worth?
You must have heard the old saying, "Time is Money" many times. Well, the phrase is worthy, and it also supplies your soap packaging needs. It takes an equal amount of effort and time to create a package that stuns customers. Is it worth your time to ask your workers to pack each box with tissue papers and other stuff manually? It is not only about the time; the more manual work you will prefer, the more you have to pay the labor cost. If you have enough time but not enough money, you can opt for putting stickers on the box instead of printing. Investing in the custom boxes will help to save money in the long run. It all depends on your needs and priorities to choose right for your business.
At first, choosing a customized solution for soap and Bath Bomb Boxes might seem expensive for your set budget but believe us, it is worth investing in. Considering your packaging needs and product requirements can help find a solution that will work for your business. As your needs change and your business grows, you can upgrade custom boxes to reflect your brand personality.