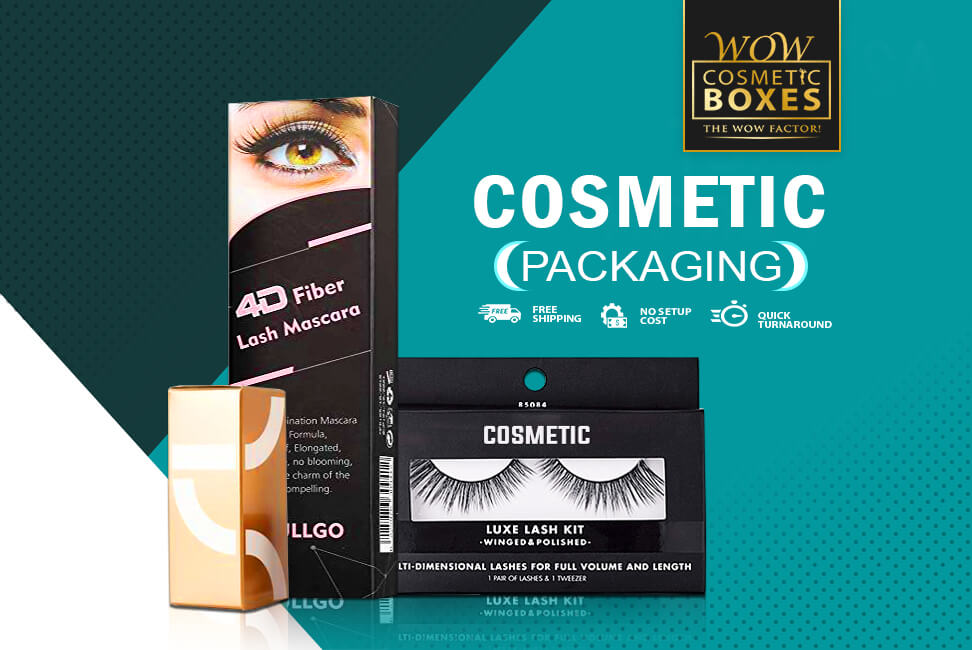 It is crucial to be on the top of your game to succeed in the saturated cosmetic market. You need to deliver your hundred percent in all the departments. Whether it is the product quality or the Cosmetic Packaging, everything needs to be on point. Even a minor mistake can be costly. Most cosmetic businesses work hard to provide the finest quality cosmetic items. They ignore the importance of an effective packaging solution. Businesses make the most common mistake of opting for a standard cardboard box to present their products on shelves. They fail to realize the value of investing in a customized solution. But choosing the wrong container is not the one mistake that brands make during the packaging design process. Cosmetic boxes are beneficial for your business, but a poorly designed box can be costly.
Using the wrong material for cosmetic packaging
A well-designed solution doesn't only need to be attractive but also functional. It is essential to be careful when handling cosmetics. They are delicate and need extra protection. Using low-quality material can be the most costly mistake you will ever make. It can cause serious damage to your product and ruin the customer experience. A low-cost material doesn't mean compromising the quality. It is still possible to get the best material for the lowest price. Cardboard is an ideal material for Cosmetic Packaging. You also have to keep in mind today's customers are becoming more and more eco-conscious. Many businesses don't realize there are many eco-friendly options available for cosmetic boxes. If you want to attract high-end customers, it is time to be green.
Designing cosmetic packaging without considering the product requirements
While designing Cosmetic Packaging, many businesses often ignore the weight and dimensions of the product. Make sure that the box you are choosing is durable enough to withstand the weight of your cosmetic items. The weight of the item decides the thickness and structure of the box. Dimensions also play a crucial in choosing the perfect box. Imagine designing a solution that is too big or too small for your product. A box smaller than your product is of no use, and a big one is only a waste of resources. You also have to make sure the design you choose must reflect your product and brand. It will help you stand out from the crowd.
Picking the wrong type of containers for lip balm packaging
Pay attention to the type of boxes you are using for Lip Balm Packaging. Picking the wrong size containers is the biggest mistake you will ever make. Customers have zero tolerance towards boxes that are too big or bulky. Don't ever make the mistake of using excessive material. It ultimately means you are contributing to environmental waste and leaving a poor impression on the customers. On the other end, choosing a small box can also cause problems. It will make your image a cheap and unprofessional business. Beauty products are high-end items, and their package should also represent the same. You need to use high-quality material, appealing design elements, and textured finishing touches for a premium look. It increases the chance of your product getting sold.
Using excessive material for lip balm packaging
The e-commerce industry is growing at a fast pace and the ultimate way to win the customers is to ensure the secure delivery of the products. Many cosmetic brands make the mistake of using excessive cushioning material to provide protection. They didn't realize it is not only a waste of money but also degrades the unboxing experience. Using excessive material for Lip Balm Packaging serves no purpose other than polluting the environment. Unboxing a product packaged in several layers is frustrating for customers. Make sure the box is the right size, and the material is durable. Your product will remain safe, and you won't have to provide unnecessary cushioning. Additionally, it will harm your brand's image. People will perceive you as a company that generates a lot of waste.
Ignoring the needs of ideal customers for lipstick packaging
Many businesses ignore the needs of customers while designing Lipstick Packaging. No matter which business you are in, having a clear understanding of the targeted customers is essential. You must know who your potential customers are and what they look for while buying cosmetic items. The success or failure of your business depends on the customers. If they are happy with the experience, they will recommend you to their circle. When satisfied, customers can be the best brand ambassadors. Assess the targeted audience's expectations, needs, and preferences. It will help you design the solution which appeals to them the most. Your business will never succeed if you do not meet potential customers' expectations.
Don't leave your lipstick packaging untested
One of the mistakes which almost every brand makes is forgetting to test the custom boxes. It is common to see examples of typography errors and serious design errors on social media. You can easily avoid these mistakes by testing the design before the final launch. The first thing to do is to proofread all the labeling and text. Furthermore, you must examine the cosmetic boxes under different conditions to ensure durability. Another way to ensure the credibility of your Lipstick Packaging is to show it to multiple individuals. Make note of their feedback and how they react to your design. It will let you know what needs to improve and how you can come up with a better solution.