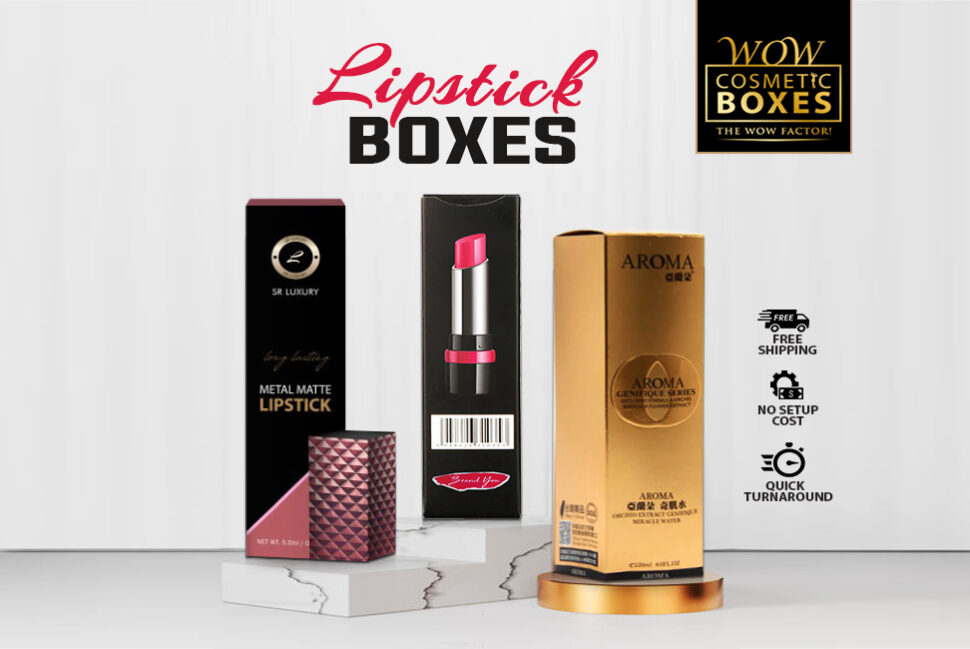 How to Design the Best Lipstick Boxes?
Are you selling your lipstick product without trendy Lipstick Boxes? In the cosmetic business, you win half the battle if customers pick your product from the shelf. But it is not as easy as we think. To win the battle, you have to bring something different to the table. If you are selling lipsticks, you have to design attractive lipstick boxes. Which at the same time benefits you in lipsticks sale and also preserve them from climate challenges. Packaging lipsticks can provide great marketing and preserving opportunities. What strategies the big brands adopt to get billions of dollar sales annually? Think on those lines. A quality product with high-quality packaging can for the trick for you too. We will discuss the points that can help to design perfect packing for lipsticks.
Amongst many, one of the most important things is to get the appropriate box in the whole packaging process. One size doesn't work for every product. And this is a common mistake people make. Product dimension and nitty-gritty should be in mind before choosing a box. After enclosing, there should be no losing space left inside. After the size, the packaging box material is vital to keep your product safe. Since the lipstick is a fragile, sensitive item, its box should be sturdy and durable, and it should protect it from heat and other severe climate effects.
Choosing the Right Form and Design of Box
The appearance role is also undeniable, and it puts your product stand apart from other products of the same category. So, you have to work on increasing the visual attraction of your lipstick boxes. Colors, logo, text, design, graphics, etc., have a major contribution to creating an eye-catching box. Remember the rule; less is more in the box designing field. When it comes to lipstick packaging, being minimal is the simplest option to choose. Famous designers always recommend simple designs. Your lipstick box is not a newspaper. Simple yet classic design always wins the contest.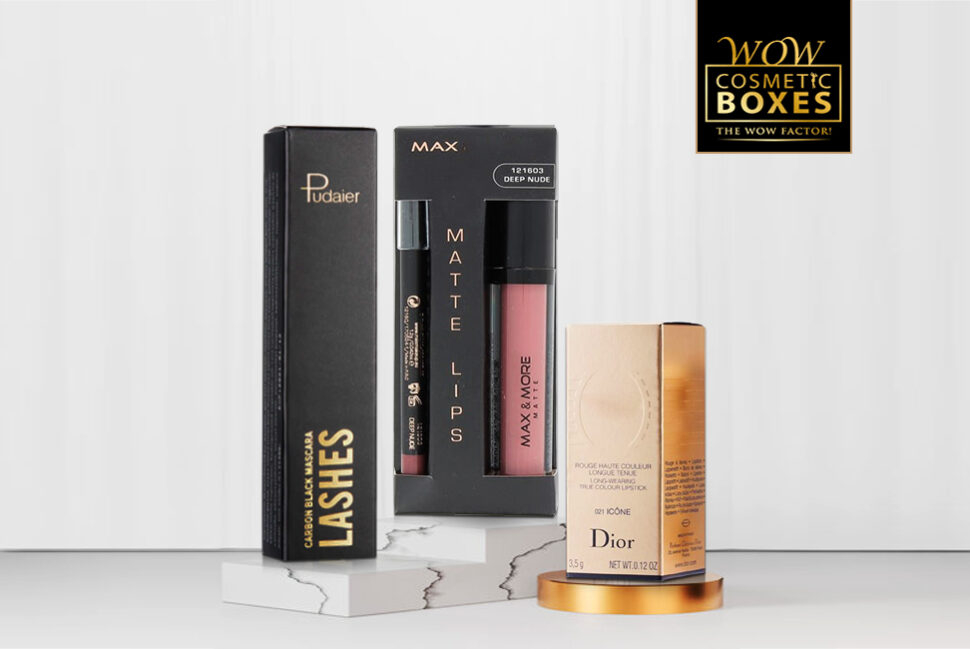 Inspirational Design Ideas for Cosmetic Boxes!
While talking about Cosmetic Boxes, current trends of today's market show that people are becoming more brand conscious. It has become harder for small companies and new businesses to get their share from the market. Though, studies of this trend in-depth show that consumers are going after the quality, class, and style. Cosmetics are made for women, and women love style. This line is the Bible for cosmetic business people. It will be absolutely fair to assume that women prefer cosmetic boxes that appear stylish and give off a luxury feel.
When it comes to design an attractive cosmetic product box, there are so many professional designers and companies working in the market. Go to them and hire their services. They will help you in creating an artistic yet durable packaging box that comprehensively meets all your requirements. But here, the basic tips which need to be followed are your box design should be the shadow of your product. It should reflect your brand identity. Your logo and graphics should convey the message to your customer, what you wanted to share. But again, stay classy is the need of an hour.
Packaging as Marketing Strategy
Almost everyone understands the significance of packaging beauty products in the cosmetic business. High-Quality packaging provides safe and secure transit and handling. Even for a quality product with an average box, it is hard to win the competition against elegant presentations. And in the cosmetic business, this is the harsh truth that many manufacturers have faced. The quality of beauty products starts from the beauty of their packaging. So, when you are about to launch your product, take your time, consult the packaging experts, take their assistance, and create a beautiful and stylish design packaging box for your product and then launch it in the market.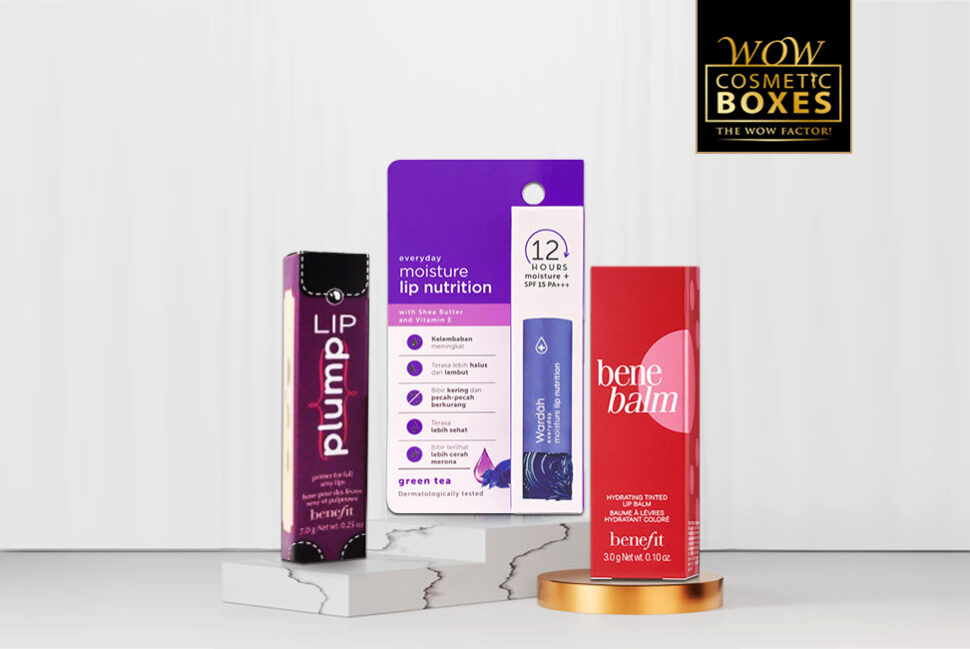 How to Enhance Your Product Value with Lip Balm Boxes
Everyone wants to look good, and for this, we all use to spend money, and this is why the cosmetic industry is flourishing every year. Lip Balm Boxes are an important cosmetic necessity and is immensely popular for ages. And especially lip balm is the product which demand is increasing with every day passing. Because this is the product that can be used in all seasons and weather. A beauty product cannot be sold openly; it will be the insult of that product. Similarly, to serve the purpose, lip balms must be packed carefully in special lip balm boxes before launching them on the market. Here we discuss different ways to enhance the presentation of lip balm packaging boxes.
This is the basic requirement of lip balm packaging. Beauty products have to travel a lot. Before it reaches the customer, they travel from one state to another, one country to another. And after-sales, their traveling increases with leaps and bounds, as they travel daily in women's purses. So, a durable packaging that helps them to protect from breaking and melting is a must.
Elegant and Vibrant Design
A beauty product that makes people look good cannot be packed in ugly, rough, or dull packaging. Design the packaging boxes of lip balm in elegant and vibrant design, making customers love them at first sight. Your packaging should reflect style, class, and gravity. It is known to experience that well-articulated packaging boxes increase the sale of beauty products, as women love beauty and style. In the cosmetic industry, lip products are getting a good chunk of the overall sale. Therefore, the lip balm, gloss, and stick packaging boxes become more critical than any other beauty product packaging. An attractive box should attract customers at first sight. Hence, create a box that displays its brand name. The information and labeling printed on the box should have the necessary information mentioned on it.