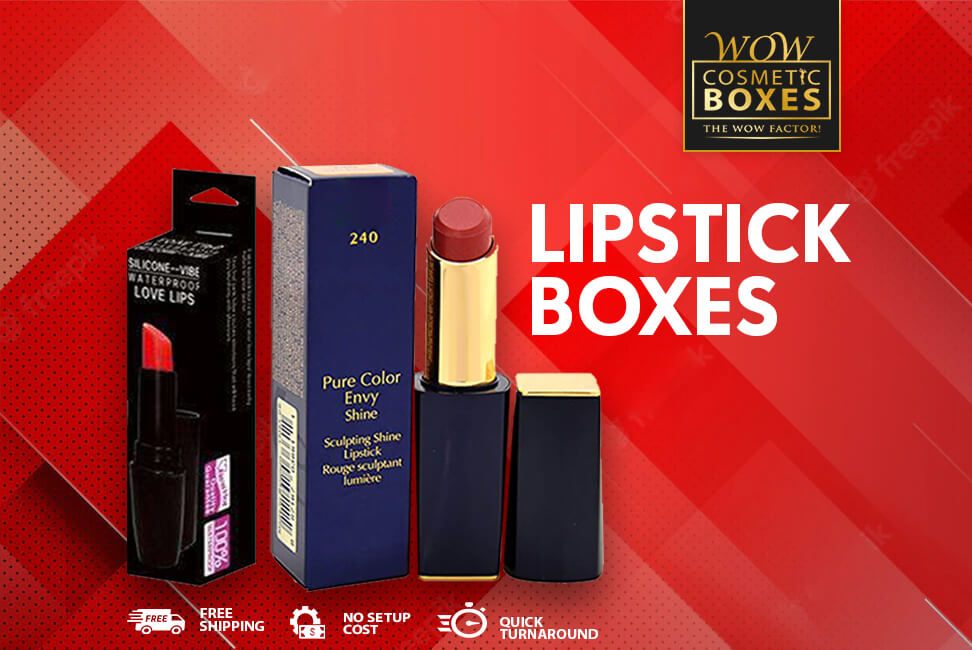 Did you know that when you send your product in a box, the package is likely to be opened by the customer? And did you know that the way your product is packaged can make or break their first impression of the product? High-quality packaging shows that you care about not only the product itself but also prospective customers' first impressions of your brand. You want something that is both functional and aesthetically pleasing to draw people and want to pick it up themselves. If you want to boost your bottom line and see a big impact on your revenue, Lipstick Boxes can help you improve your bottom line.
Increase Brand Recognition with Lipstick Boxes
Lipstick Boxes are a portable, affordable way to increase brand recognition. Custom packaging keeps your brand's name in front of customers. People are more likely to remember and buy a product that is packaged memorably. The right solution can help your brand stand out from other brands on the market. It also helps you build a customer base that is loyal to you. So always make your branding part of the design. It will help to increase recognition.
Use Lipstick Boxes as Your Marketing Tool
You can customize the custom packaging to include your company name and logo. It means they can act as an advertising tool. Adding your logo is the way to build a unique identity. Providing a unique unboxing experience can make customers share it online. It ultimately helps you reach a broader audience. Even if you aren't using them to package your cosmetics, you can use Lipstick Boxes for giveaways or free samples to spread the word about your business.
Save Money and Increase Efficiency with Lipstick Boxes
Cardboard and corrugated are much cheaper than other materials like plastic or glass tubes. You can get the most durable material at an affordable price. They are also easier to store than other types of packaging. It means you won't have to spend money on extra storage space for products that aren't being sold yet. Plus, Lipstick Boxes are easy for customers to open, so they won't waste time trying to pry off a lid or pull out an applicator wand when all they want is their favorite lipstick.
Outshine Your Competitors with Unique Cosmetic Boxes
The cosmetic industry is a pretty saturated place. It has become more difficult than ever to make your name in the crowd. Custom packaging is one of the essential aspects of becoming your business a success. Designing unique and innovative Cosmetic Boxes helps you outshine the competitors. Always do the market search before settling on the design. But it is essential to choose the packaging which complements your product and brand. Outshining is all about making your product get noticed.
Make Use of Recyclable Materials with Cosmetic Boxes
You can use eco-friendly materials such as cardboard and biodegradable plastics in your packaging design. These materials are available in a variety of colors and designs. It will help you create attractive Cosmetic Boxes that fit your brand identity. They are also easy to recycle and reuse, which is better for the environment than using non-recyclable materials such as plastic or glass bottles. Being green help to leave a positive impression on the customers.
Make Your Packaging Stand Out With Cosmetic Boxes
Cosmetic packaging doesn't have to be boring. There are plenty of ways to make it stand out from the crowd. One option is to use custom graphics on your Cosmetic Boxes. It will draw attention and make people want to pick up and examine what's inside. If you're looking for something more subtle, try using different colors or textures instead. Inserts are an ideal way to differentiate yourself. You can choose from a variety of different types of inserts depending on what type of product you're selling.
Reduce Shipping Costs and Damage with Soap Boxes
Soap Boxes are a lightweight and cheap solution that can protect your products during shipping and handling. If you're shipping your products to customers, having a sturdy box is essential. A Soap Box can help keep what you're shipping safe and sound on its way to the customer. It also reduces the need for padding, which saves you money on shipping costs. Using eco-friendly materials is perfect for storing and shipping. You can find the product package in custom shapes and sizes.
Improve the Customer Experience with Help of Soap Boxes
A custom box can improve the customer experience. When your customers open the package, they will feel like it's a gift. It helps make a great first impression on your customers and encourages them to buy from you again in the future. You can customize the Soap Boxes with labels that match the scent or shape of your product. It will help customers identify what they are getting before they open the package. You can also add some gifts to the product package to impact customers.
Emphasize Your Product's Value with Soap Boxes
Custom packaging emphasizes your product's value. When it comes to the product package, there is nothing more important than quality. With Soap Boxes, you have complete control over how your brand looks and feels. When you display your product in a beautiful display, it seems more valuable than if they were only floating around in a plain box or bag. Make sure that you choose packaging that shows off all aspects of your product so that it does not seem hidden or understated.