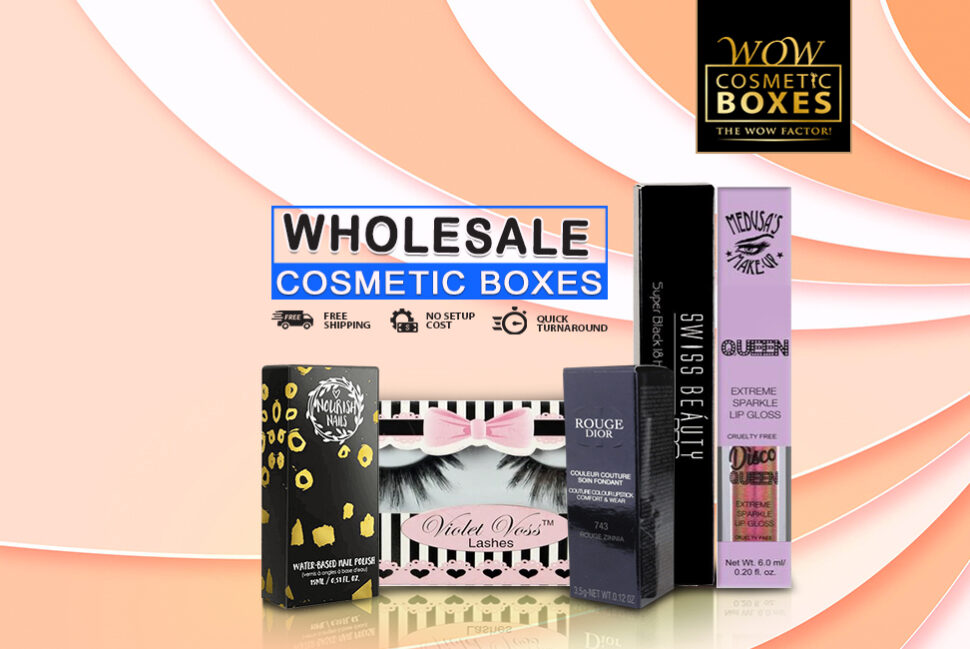 To do well in your business, you need to understand the influence of a good packaging design on customer behavior and purchase decisions. Having a well-designed solution is not only essential for the brands and customers but the retailers and investors. A customized solution not only catches the eye but also conveys your brand message and values. There are several reasons to pay extra attention to the packaging design to stand out in the crowded market. If done rightly, custom packaging can do more to your business other than holding the product. It presents your product, acts as your brand ambassador, and boosts sales.
The Benefits of Using Wholesale Cosmetic Boxes
Using plain brown boxes for your products can make your brand miss out on many growth opportunities. When it comes to Wholesale Cosmetic Boxes, you need to utilize every opportunity to ensure returning customers and business. A solution that has aesthetic appeal and offers functionality can maximize sales. Admit it or not, product packaging matters a big time. You cannot survive in the competitive cosmetic industry without paying attention to the product presentation and display. The style, appeal, design, elegance, and functionality combined in one package can make a big difference to the marketing and product sale. After all, the packaging is what customers see first even before getting a chance to hold the product.
It Conveys the Brand Features
Incorporate your brand elements into the packaging design to make an impact on the customers. Branding is more than just your company's logo, and you can creatively craft into the design to stimulate senses and communicate your brand message.
The logo is an essential design element: Customers usually associate their feelings and emotions to their favorite brand, and a logo has a crucial role to play in it. A logo can make customers recall the experience with the brand, and if the last encounter is good, it can trigger to repeat purchase.
An eye-catching color combination always works: According to color experts, the use of colors is a proven way to attract ideal customers. Colors have an essential role to play in influencing purchase decisions. Each color has a hidden message to convey, which ultimately triggers emotions and feelings. That's why big brand always makes smart use of colors for the marketing purposes.
Unique and effective typography: The right choice of fonts can make a big difference in sales. It can convert regular shoppers into potential customers. Just like color attracts attention, bold and eye-catching typography can make a big impact on how customers perceive your brand. When it comes to cosmetic packaging, try to convey a high-end feel with bold fonts.
An attractive artwork: An attractive design and artwork can influence customers to pick up the product from the shelves. Customers are ready to pay for the products which come in premium boxes. Just like colors attract attention, an eye-catching design lures customers to make the purchase.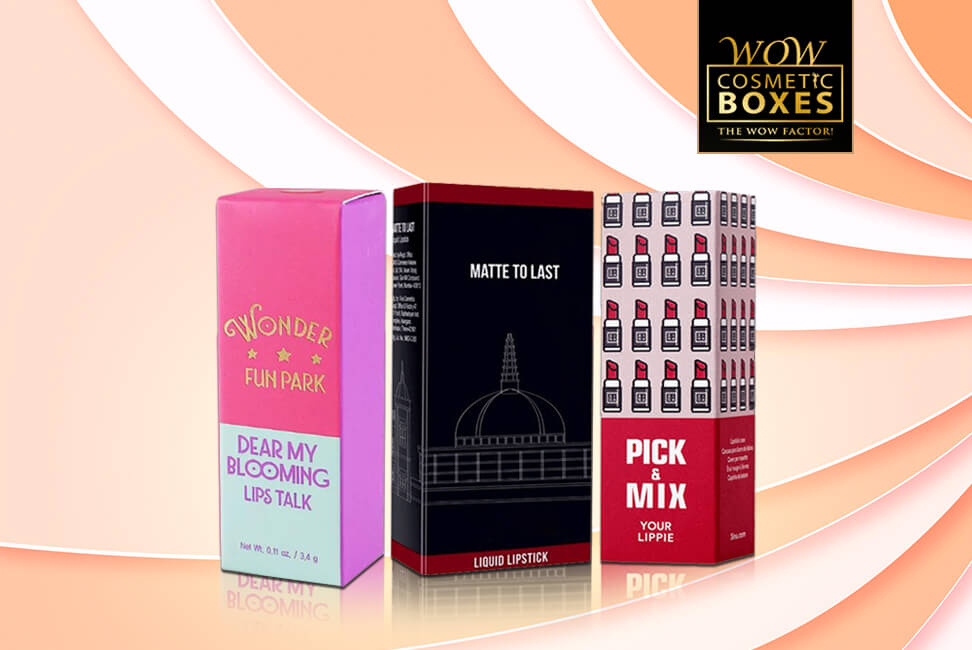 Design Custom Lipstick Boxes for Sale to Impact Customer Purchase Behavior
Almost 60% of the customers have admitted if they found a packaging solution unique and appealing they share the photo of the product and the unboxing video on social media. 40% of the cosmetic brands have admitted they have seen an increase in sales when they have made changes to the packaging design. When you design Custom Lipstick Boxes for sale, you have to consider several things to impact customer purchase behavior. According to a recent study, customers only take 5 to 10 seconds to scan the product, and these seconds are enough for them to make a judgment. It proves that the design you choose for your cosmetic product must appeal to the ideal customers. Design a visually appealing solution that impacts customer purchase behavior and makes them put it in their shopping cart.
You Can Make a Lasting First Impression by Going Green
We all are familiar with the phrase "The first impression is your last impression." It is 100% true, and you don't get a second chance ever. You have to design a solution that makes a lasting impression on the customers within seconds. Brands that fail to make an impact has zero to little chance to get successful. When we talk about cosmetic boxes, they need to be high-end and luxurious to call attention. If you are having difficulty figuring out what can make you unique, take a look at your competition. Ding research on the competition can help you stand out by doing what others are not capable of. Cosmetic packaging that is designed to inspire the customers, provide a unique experience, communicate the brand message, and inform the audience can make a memorable first impression.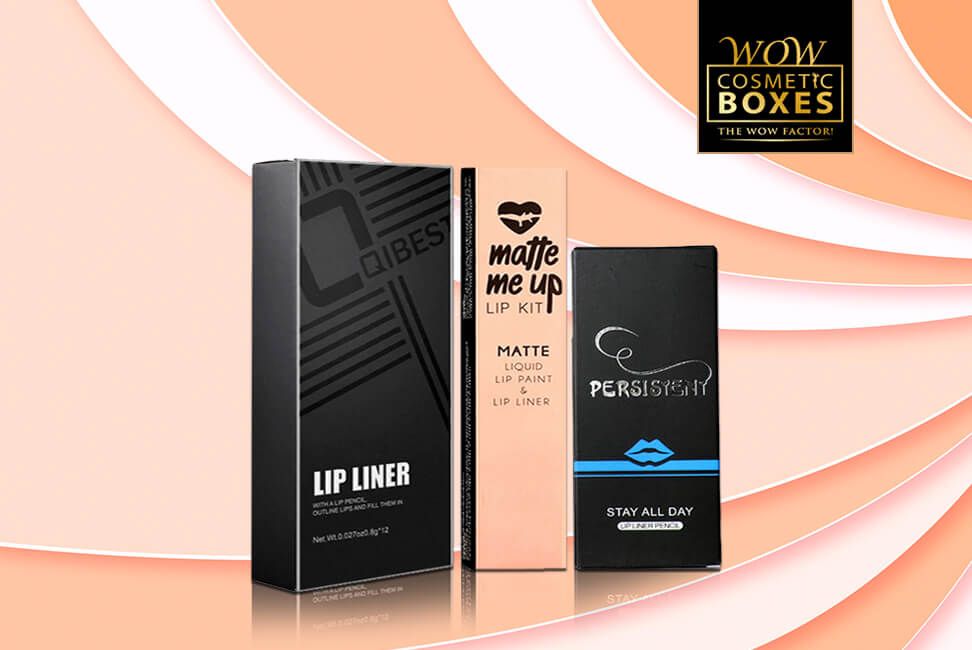 Enhance Customer Experience with Custom Lip Liner Boxes
Customer experience is what it all takes to make an unknown brand a household name. When it comes to experience, the inside matters as much as the outside. The purchase experience doesn't end as soon as the customer receives the product, but it starts from there. The simple and effective way is to continue the outside print to the inside. It will add an element of surprise to the unboxing. Make sure to greet customers on special occasions and thank them for the purchase with small handwritten notes. If you have a high budget, you can go for a product sample or a free beauty product. Try adding discount coupons and vouchers to influence customers for future purchases. Making a customer smile can benefit your business more than you think.
Custom product packaging matters more than you think. Whether you are selling your product in a retail or online market, how you present your product can boost sales. Working with an experienced designer can make you get the most out of the Custom Lip Liner Boxes. You need to understand customer psychology and design a solution that appeals to them the most. Proving an exceptional experience can help you to win customers loyalty.